Download D&D Style Game MOD APK latest version and enjoy dynamic gameplay based on your choices. It has a wide variety of choices, guaranteeing a diverse experience. 
Information of D&D Style Choice Game
| | |
| --- | --- |
| Name | D&D Style Choice Game |
| Updated | |
| Compatible with | Android 4.1+ |
| Last version | 19.2 |
| Size | 30.40 Mb |
| Category | Role playing |
| Developer | Delight Games |
| Price | Free |
| Google Play Link | |
| MOD | Unlimited money |
About D&D Style Choice Game
D&D Style Choice is a role-playing game developed by Delight Games. It takes the form of storytelling sessions that challenge you to determine the flow of the gameplay.
As such, you should be keen from the beginning since your choices will either make the gameplay interesting or complicate your situation.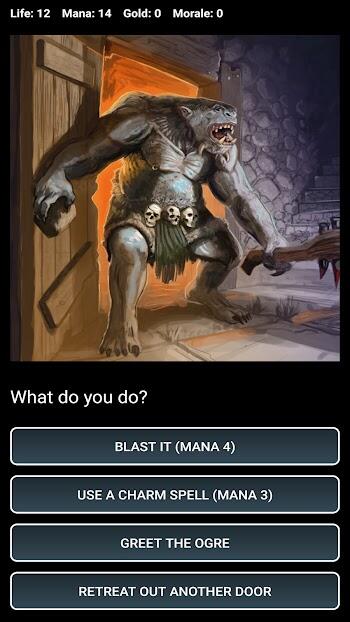 If you're a fan of RPG games, you should download D&D Style Choice Game for Android. The game is compatible with all Android 4.1 and up devices. It has more than one million installations on the Google Play Store with a rating of 4.8. This warm reception is indicative of the highly engaging gameplay you'll experience once you download the app.
D&D Style Choice Game Walkthrough
This role-playing-based game features several characters who interact with each other in various ways. You can choose your character and go through different quests. You'll make countless choices that will determine how the game progresses.
Some of the common characters you'll encounter include a ranger, wizard, rogue, or succubus. Each of these characters has a unique personality and backstory. You can get to know them better by playing the game.
The ending of the game also depends on your choices so you need to be very careful. Some of the choices you'll be entitled to make include:
Throw a dagger at the priestess
Be invisible to strike from behind in Mana 2
Engage a fireball in Mana 3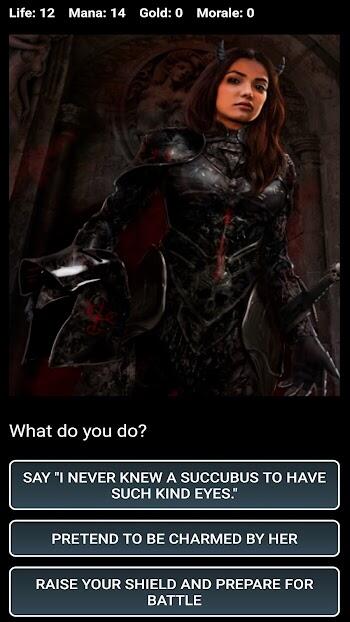 Threaten to burn down a shop
Bump into a witch and pickpocket her
Listen in and attempt blackmail
When you choose any of these actions, the gameplay and quests start to develop. For instance, someone may catch you or an event occurs that influences how the story develops. You'll have a great time as you enjoy this experience.
Even better, you can choose from different categories of games available. It offers action-packed, romantic, and fantasy games. This means that your experience is always unique and fresh.
You can replay the game with different choices to get different results. This means that you have a chance of experiencing different endings at the end.
Highly Progressive Gameplay
In the beginning, you'll make simple choices that are easy to understand. As the game progresses, you'll be asked more complicated questions that will test your ability and creativity.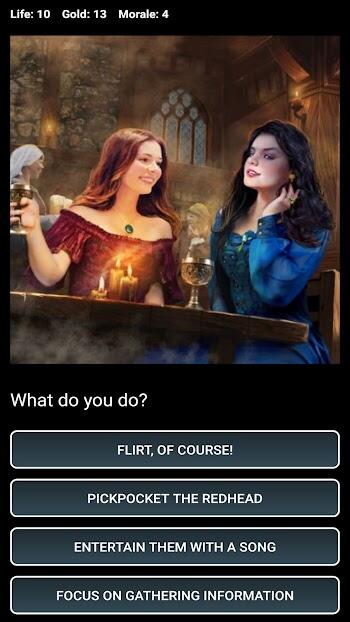 While you'll start with a glory search, you'll delve into a conspiracy and parallel worlds that'll be brutal and unforgiving. You'll switch to rogues and succubus that will make the gameplay scary.
Superior Graphics and Immersive Sound Systems
D&D Style Choice Game has high-resolution graphics and special effects. It also features sound systems that make it great for entertainment purposes. This is a great way to enjoy your free time while getting lost in the virtual world of your choices.
Free Choices
Unlike many RPG games, you don't need to spend currency to make choices. As such, you can avoid complicated situations and focus on enjoying the game.
Additionally, you'll be able to accumulate currency by watching videos and then using it to get ahead in the game. You can also get extra lives and other enhancements to make the game more fun.
Highly Competitive Gameplay
D&D Style Choice Game is highly competitive. You can compare your progress with that of your friends and see who makes better choices. This increases the level of excitement and competition in the game.
Quick Updates
The game developer is always working to improve the game. As such, you can expect quick updates that will improve your experience. We recommend that you always download the latest version of the game to avoid bugs that may slow down operations.
Highly Intuitive Controls
When it comes to controls, this game is easy to get started. You can use the joystick or on-screen arrow buttons to move through the game. It also has simplified touch gestures that allow you to enjoy your experience without complexities.
Tips on How to Succeed When Playing D&D Style Choice Game
If you want to succeed in the game, follow these tips:
Choose wisely. Your choices determine the outcome of the game.
Be attentive to details. They may be important in making future decisions.
Get immersed in the game. This will help you make better choices.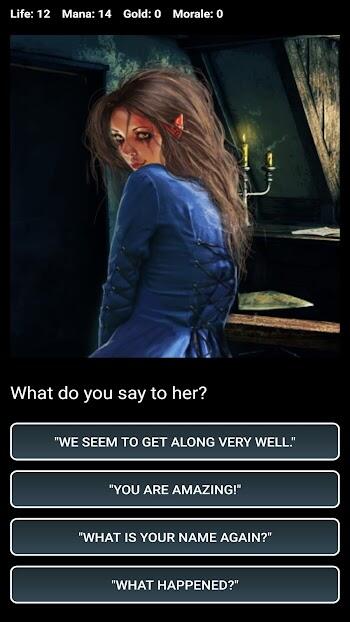 Additionally, you must be empathetic with your character. Ensure that every choice you make is for their good. This way, you can maximize your game progress.
Finally, don't be afraid to make tough decisions. They are a necessary part of the game.
Offline Play
This game offers you an opportunity to play from anywhere at any time without having to connect to the Internet. Thus, it is a great way to keep entertained during your downtime.
D&D Style Choice Game Premium MOD APK
The modded version of the game offers an enhanced user experience as you can make better choices and use unique characters.
Its improved offline play is perfect for extending battery life. However, if you have a powerful phone or tablet, we recommend that you connect to the Internet and enjoy its full potential.
Other features of D&D Style Medieval Fantasy RPG (Choices Game) MOD APK include:
No Ads. D and D Style Choice Game MOD APK offers you an ad-free gaming experience.
Free to Play. This game is free to play. It doesn't require you to spend money on special items or currency. Instead, you can enjoy updates and quick gameplay thanks to the revenue from the video ads that will occasionally appear during your quests.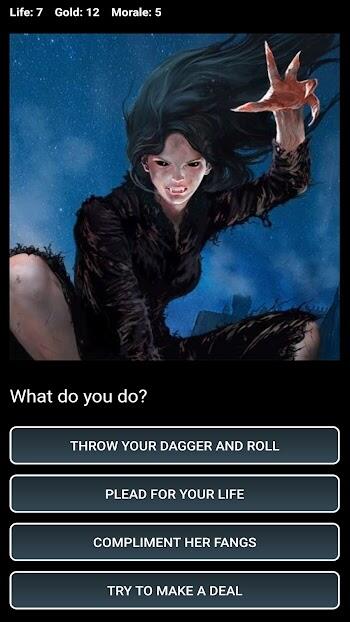 Unlimited Coins/Gems/Cash. You can get unlimited currency and never run out of lives.
Unlimited Energy. You'll be able to continue playing the game without limitations thanks to unlimited energy. A single character can battle for days before needing a break due to low energy levels. Additionally, you won't require any in-game purchases that will take real money from your wallet.
Conclusion - D&D Style Choice Game Wiki
D&D Style Medieval Fantasy RPG (Choices Game) is your ultimate game if you love dynamic and mind-provoking games.
Additionally, the D&D Style Choice Game Wizard's choice will offer scary scenes. Other options that you'll get include romantic and fantasy sessions.