Download CSR Racing 2 MOD APK latest version and enjoy an unrivaled drag & speed racing. It features realistic cars from renowned manufacturers and hair-raising events.
Information of CSR Racing 2
| | |
| --- | --- |
| Name | CSR Racing 2 |
| Updated | |
| Compatible with | Android 4.4+ |
| Last version | 4.5.1 |
| Size | 84.40 Mb |
| Category | Racing |
| Developer | NaturalMotionGames Ltd |
| Price | Free |
| Google Play Link | |
| MOD | Unlimited money, gold and keys |
Money and Gold do not decrease when spent!
Using this MOD, you may get banned!
CSR Racing 2 APK is a popular drag racing game released in 2016 by NaturalMotionGames Ltd. It features realistically modeled cars from renowned manufacturers such as Audi, BMW, Mercedes, and McLaren.
It features highly authentic graphics, realistic car physics, and intuitive control options. You can modify your car with numerous customization options, including performance upgrades and visual modifications. This way, you will take 100% control of your gaming experience.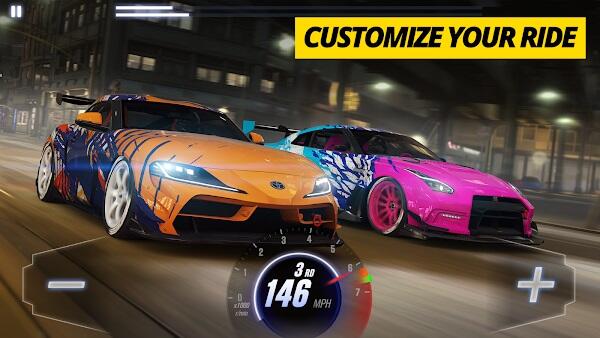 Even better, you can race head-to-head against real players in live online races. This guarantees adrenaline-pumping action. You can join forces with friends to create a racing crew and dominate the leaderboards.
Overall, this game is well-thought-out, exciting, and highly addictive. It epitomizes the drag racing genre, offering detailed gameplay, realistic mechanics, and a hair-raising atmosphere. Download CSR Racing 2 MOD APK 2023 and experience a unique racing adventure.
Brief History of CSR Racing 2 APK & Everything You Need to Know
CSR Racing 2 is a sequel to CSR Classic, a game released in 2012. This iteration takes the franchise to new heights with detailed graphics and realistic mechanics. Even better, it includes modern vehicles from renowned manufacturers.
However, it does not entirely drop classic vehicles. You will still access iconic cars from classic manufacturers such as Mercedes, Chevrolet, and Ferrari. This diversity gives it more depth and a broader appeal than its predecessors (CSR Racing & CSR Classics).
Additionally, the developer has invested heavily in graphics & game mechanics. The first sight of the game will leave you in awe of its beauty and attention to detail. Every element has been realistically modeled, making the game life-like.
As such, this game offers undeniable improvements over its predecessors. It has attracted 50 million+ players, indicating its popularity. You will love the experience that it offers, without a doubt!
How to Play CSR Racing 2 APK?
This game features simple controls designed to enable an intuitive experience. It follows the touch-and-drag mechanic, allowing you to control your vehicle with ease. You will not experience any difficulty if you are familiar with the basics of drag racing.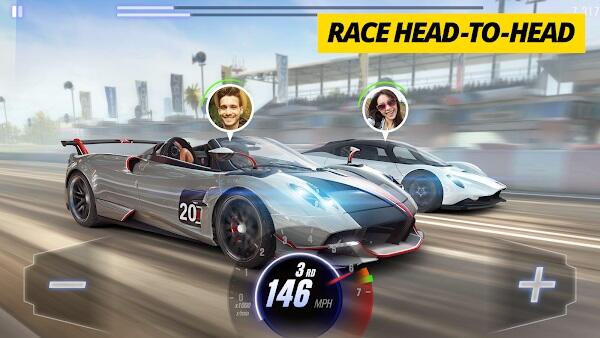 Additionally, the game is quite diverse, offering several playing options, including:
Speed Racing. This is the most basic game mode. You will be racing against real-time opponents, vying to reach the finish line first. You must use your driving skills and car tuning capabilities to discover an edge.
Drag Racing. This option is like speed racing, but it involves short races. They are set in a straight line, and the player with the highest acceleration wins. Ensure you modify your car correctly to succeed.
Crew Racing. This option allows you to join forces with up to three friends and race against other crews in the leaderboard. You must cooperate & use your skills toward a common goal as you strive for glory.
Single-Player Mode. While this can encompass both speed & drag racing, you will be racing against time. You are free to modify your car as desired and take part in daily races & tournaments.
Immediately after you select your race type, you'll be prompted to select a car. You can access the garage & view the available vehicles. You must pick one, depending on your playing style and budget.
Once your car is ready, you must tune it correctly for optimal performance. It features several tuning options such as aerodynamic parts and engine upgrades. This way, you will customize your car according to your playing style.
You'll then proceed to the start line & race against your opponents head-on. The game is intense, offering realistic mechanics that will leave you breathless. Fortunately, you will receive generous rewards for your efforts.
Other Outstanding Features of CSR Racing 2 APK
Custom-Built Cars. The developer has partnered with renowned car manufacturers to create unique cars. You access world-class vehicles, including Bugatti La Voiture Noire, Ferrari SF90 Stradale, McLaren Senna, Chevrolet Camaro ZL1 1LE NASCAR, Mercedes-AMG F1 W11 EQ Performance, and Nissan Skyline GT-R (R34 NISMO S-tune). Others include Porsche, Lamborghini, Auston Martin, Koenigsegg, and Toyota Supra Aerotop.
Real-Time Racing. It allows you to engage in real-time racing against your friends & opponents from different regions. You must put up a spirited fight to succeed. This is the only way you will access the game's rewards.
Highly Intense Campaign Modes. This game is quite diverse, offering several playing options. You can compete in daily tournaments and in-game campaigns for rewards. Whichever option you pick, the game will prove to be quite intense.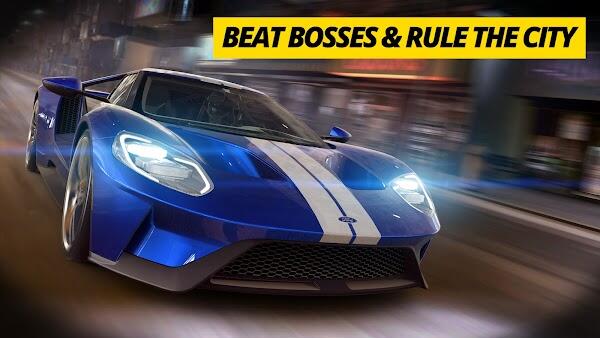 Beautiful 3D Graphics. If you're bored of outdated graphics, then this game will be a breath of fresh air. Its visuals are quite stunning, offering realistic & immersive details. This way, you will see the classic cars & tracks in their full glory.
Numerous Customization Options. CSR Racing 2 MOD APK for Android is versatile, offering users multiple customization options. You can modify your car's engine, transmission, tires, and parts according to your tastes. Ensure you achieve the best traction, balance, and transmission on each track.
Rewards for Winning Races. The game offers generous rewards for winning races, allowing you to upgrade your car & purchase more vehicles. You will receive in-game currencies such as gold coins & keys, which can be used to unlock advanced features.
Realistic Courses. This game features iconic courses, allowing you to feel the thrill of real-life racing. You'll come across tight corners, long straightaways, and hazardous obstacles. Ensure you use your skills & car tuning capabilities accordingly.
AR Mode. CSR Racing 2 incorporates Augmented Reality, allowing you to virtually explore the cars' details. This ensures you have a first-hand experience of how it feels to own a legendary supercar.
Different Drifting Mechanics. The game allows you to practice racing & drifting techniques. They include countersteering, oversteering, and opposite lock. This way, you will master the art of drifting with ease.
Highly Hypnotic Sounds. This game features realistic engines & skid noises. As you accelerate, the sound grows more intense. The soundtrack also contributes significantly to its immersive feel.
No Wi-Fi Games Support. You can play this game offline, allowing you to enjoy it anytime & anywhere. This way, you will never miss out on a race. Whether traveling or at home, you can always access its content.
System Requirements & Additional Information
This game can be accessed on devices running Android 4.4 & above. It offers in-app purchases ($0.99 - $99.99 per item), allowing you to purchase coins and keys. Ensure you set a PIN to prevent unauthorized payments. Better still, you can turn off the in-app purchase feature on your device's settings.
It requires 1.5 GB of free storage space and a reliable internet connection to run smoothly. You must also have at least 4GB RAM to enjoy its graphics & effects. If not, you may experience sluggish performance or lag issues.
Finally, this game doesn't contain any graphic violence or explicit content. Therefore, it's appropriate for children & teens alike.
Tested & Proven Tips for Playing CSR Racing 2 APK
Choose the right car for your needs. Each car has its specifications & you must pick one that suits the track & condition best.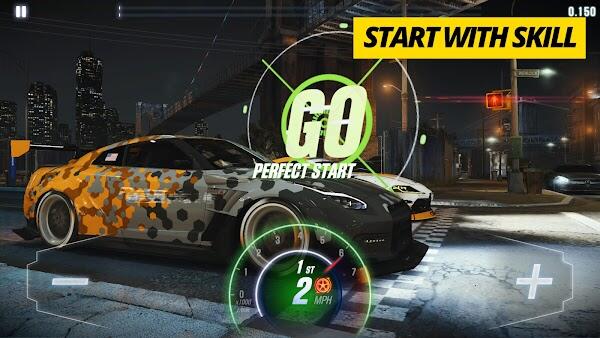 Experiment with different tuning sets to find out which works best for your car. This will ensure you get the most out of each race.
Learn how to drift correctly for maximum speed & efficiency. Practice with different techniques until you master them all.
Pay attention to details such as brakes & tires for improved performance. Ensure they are in top condition to get the best out of your car.
Don't forget to upgrade your engine, transmission, tires & parts periodically. This way, you will stay competitive & increase your chances of success.
Ensure you have enough gold coins & keys for critical upgrades. These resources can be earned by winning races or buying them.
Join a team or participate in tournaments for ultimate bragging rights. This will give you access to exclusive rewards and make the game more enjoyable.
Stay informed of any updates or new features added by the developers. This way, you'll never miss out on anything that could improve your gaming experience.
Conclusion
CSR Racing 2 is a thrilling game that delivers an exhilarating experience. It features realistic courses, allowing you to explore the world of high-performance driving. You can also enjoy its simulated engine sounds, Augmented Reality mode & different drifting mechanics.
Besides, the CSR Racing 2 MOD APK download is optimized for fun-filled escapades. It ensures you stay competitive, allowing you to enjoy your favorite pastime even more. Download it and test your driving skills.