Download Champion Soccer Star Mod APK Unlimited money and gems Latest version and build your soccer career. You start as a rookie player and work your way up to becoming a top champion star.
Information of Champion Soccer Star
| | |
| --- | --- |
| Name | Champion Soccer Star |
| Updated | |
| Compatible with | Android 4.1+ |
| Last version | 0.88 |
| Size | 76.05 Mb |
| Category | Sports |
| Developer | Brain Vault |
| Price | Free |
| Google Play Link | |
| MOD | Unlimited money, gems |
Note: Not working in shop
About Champion Soccer Star
Champion Soccer Star APK is a sports app offered by Brain Vault. Its graphics are not as detailed and realistic as FIFA APK, but it has a unique charm and is fun to play.
The game is quite progressive, and you must prove your worth in each match. You start as a beginner player with limited skills and abilities. As you play through matches, training, and events, your player will level up and improve skills.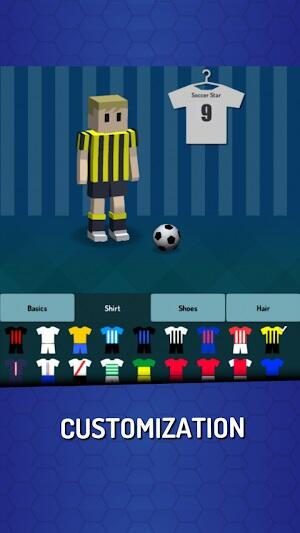 Ensure you perfect passing, shooting, dribbling, defending, and other abilities to become a well-rounded player. This way, coaches and managers will notice you and offer contracts to play for top teams in famous leagues.
Overall, you can expect fun-filled, uncomplicated. Its facile graphics guarantee a lightweight and smooth gameplay experience. This way, you will not experience lag even when playing on low-specification devices.
Grow Your Soccer Career
This game allows gradual but sustainable progress. You start as an enthusiastic player dreaming of being a guru in the field.
Along the way, you can improve your abilities and skills through training, matches, and events. Also, there are contracts to sign with top teams in famous leagues such as Premier League and La Liga.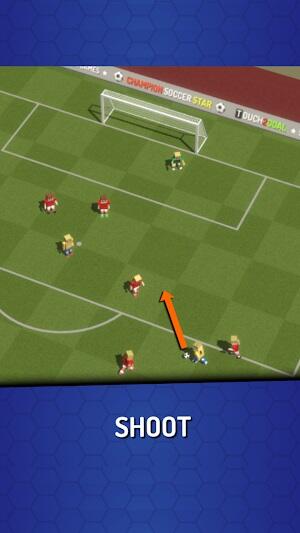 The game's transfer system is also well-developed. There will be transfer offers and negotiations that you can accept or reject based on your preference. You must only choose wisely for the sake of your career progress.
Highly Authentic World Championships
In this game, you can join your national team to inject talent and help take it to the world championships. Some countries available include Argentina, Britain, France, Brazil, Germany, Russia, Spain, and the United States. You must coordinate with other players, have a good strategy, and win difficult matches to be the champion.
After the win, you will gain massive popularity and fame as a soccer star. Your player's stats and abilities will also improve drastically. This way, you will stand a better chance of getting contracts from top clubs.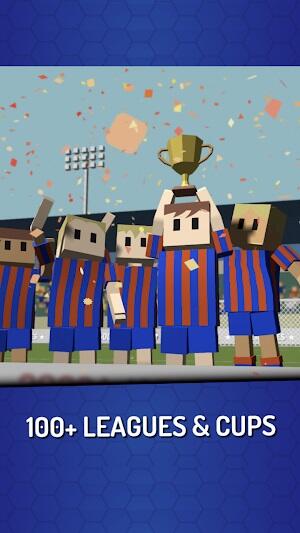 As such, you should never take the game lightly since each match and decision will impact your career progress in the long run. You should lead your team and make history in the world championships. Take it with both hands!
Numerous Clubs to Join and Play
You can join numerous clubs from different countries. You can also choose from 100+ leagues, including LaLiga, Bundesliga, Premier League, and Serie A.
Each club will have its facilities, players, and coaches. As a player, you need to impress them with your abilities and prove your worth in each match. In the end, it is up to you to work hard and shine as a soccer star for the team.
Customize Your Character
The characters in this game are cartoony and not as detailed and realistic as in FIFA APK. However, you can still customize your player's appearance with various hairstyles and clothes.
Not only that, but you can also choose their nationality, preferred foot, position on the field, and more. This way, you can have a personalized experience all through the game.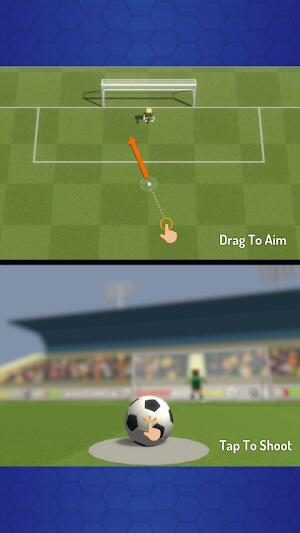 Besides, your character's animations and movements are fluid and realistic enough to make the gameplay enjoyable. They also vary depending on the activity. For example, when a player is sprinting, their movements will be different from when they are passing or shooting the ball.
Simple Controls & Realistic Physics
Champion Soccer Star's controls are straightforward to grasp, even for beginners. They involve swiping on the screen to pass or shoot the ball, as well as tapping to perform actions such as sliding tackle or sprint.
You can also drag to aim, add spin, or change the direction of your shot. The game's physics is also realistic and well-executed, making every match as close to reality as possible.
With unbelievable playback shots, penalty kicks, and free kicks, you will feel the tension and excitement of playing on a real soccer field. As such, you should be prepared for the pressure and make every shot count.
Other Unique Features of Champion Soccer Star APK
Exceptional New Modes. Besides career mode, you can enjoy a super-realistic arcade and free-kick master modes. These modes also have leaderboards where you can compete with players from all over the world.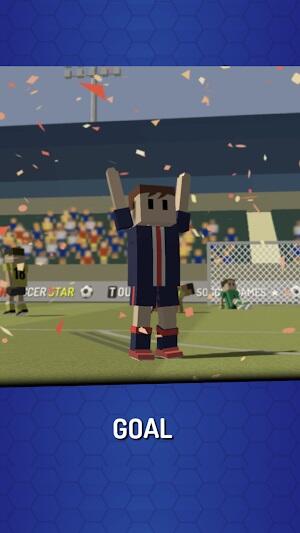 Independent Training System. This game also offers various training activities. You can decide to use your left or right foot, strengthen your stamina, and improve other skills. This way, you can become a well-rounded player on the field.
In-depth Statistics & Achievements. The game also keeps track of your progress through statistics such as top scorer and number of assists. It also monitors achievements like winning the Champions League or becoming a national team captain. This way, you can see your growth as a soccer star in the game.
Amazing Goalkeeper AI. This game applies advanced AI for the goalkeeper, making it challenging to score against them. The goalkeeper will also react differently depending on your shot's power and direction. This way, your skills will be put to the test, just like in a real match.
This game requires less than 40Mb of storage space, making it suitable for devices with limited memory. You can be sure to have a smooth gaming experience, even on low-spec devices.
No Internet Connection Required. You can enjoy playing Champion Soccer Star offline, anytime and anywhere you want. This way, it is a great option for killing time during your commute or when there is no internet access.
Beautiful Graphics. Despite its small size, this game has high-quality graphics and stunning stadium designs. You can also see realistic player models during matches and cutscenes for a more immersive experience.
Champion Soccer Star MOD APK Download
Are you interested in adding flavor to your gameplay? The Champion Soccer Star MOD APK for Android has these outstanding features: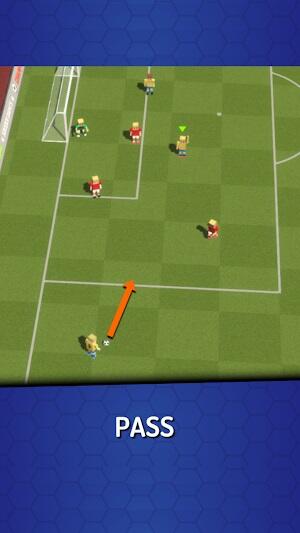 Champion Soccer Star MOD APK Unlimited Money and Gems. The MOD APK provides unlimited resources, allowing you to purchase whatever you want in the game. Whether it is new player cards or stadium upgrades, you can have it all without worrying about running out of money.
No Ads. Enjoy an ad-free gaming experience and focus on becoming the ultimate champion in the field. This way, you can fully immerse yourself in the soccer game.
Unlocked All Items. The Champion Soccer Star MOD APK 2023 version unlocks all items and upgrades, giving you access to the best gear and equipment for your player. This guarantees a competitive edge against your opponents.
Conclusion
Champion Soccer Star is a realistic and addictive soccer simulation game. It offers simple controls, various game modes, training activities, in-depth statistics, advanced AI goalkeeper, beautiful graphics, and the ability to play offline.
Additionally, the game's graphics are light & small, ensuring smooth gameplay for low-spec devices. For those who want an extra edge, the MOD APK version offers unlimited money, no ads, and unlocked items. Download it for an unrestricted soccer experience!