Playing football is fun but it's even more fun when it's done across buildings with many people, right? Play Catch and Shoot and do exactly that across tons of levels!
Information of Catch And Shoot
Unlimited gold
Unlimited coins
American football is one of the most popular and major sports in the world. Even though it's mostly played in the west, it's still a big sport that a lot of people know. In Catch and Shoot, you'll be throwing and catching a football across different people in different buildings! Don't let the yellow people get the football in your hands. Can you beat the levels in the game?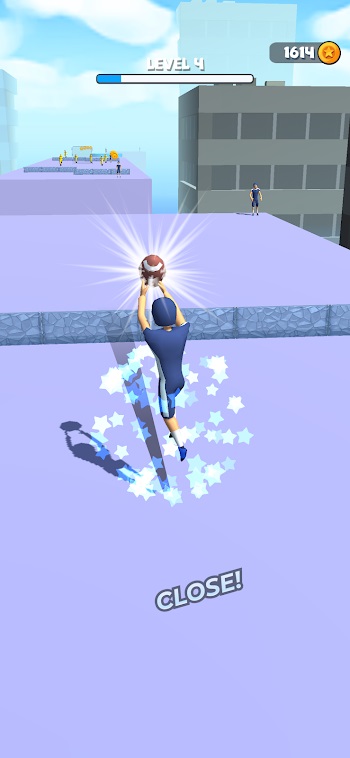 In this fun sports game, you'll get to play football in its most extreme state. Usually, football is played on the ground and with many players on each side. But in this one, you'll just be throwing it to your other selves while avoiding the enemies that will try to get it. What's even more daring is the fact that there are obstacles and different buildings on your way!
Extreme Throwing
Do you love football so much that you play it and watch shows on TV? If you're one of the die-hard fans of this sport, then you'll appreciate this game. Normally, there are 11 players each on a football team. But in Catch and Shoot, there are an unidentified number of people that's going to be chasing you all around trying to catch your ball. But make no mistake, this isn't a football game. It's a game where you'll be throwing things and catching them a lot.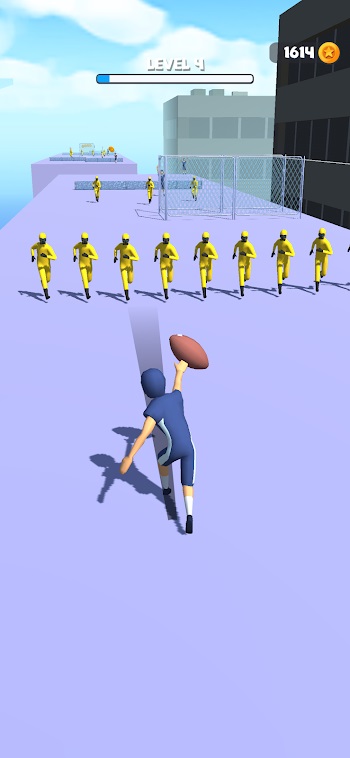 Published by VOODOO, this game tests out your athletic abilities and coordination to the max. Try to get past numerous enemies and pass different items without getting caught. Similar to how football players play, this is a game where you'll need to evade and pass all the time. As you get to higher levels, there are harder obstacles and more enemies that are after you. During these times, you need to get as close to the other person so you can successfully past it.
Aside from those, you can unlock many different items to throw not just football such as frisbees, a shield, a beach ball and many more.
Catch and Shoot Capabilities
Do you love playing catch and shoot with your dad? Most families have played this game before so you'll be familiar with Catch and Shoot.
Intense Throwing Game – The most basic game that most families play is throwing and catching balls. Sometimes it's a baseball, a football or a frisbee. But whatever it is, the most important thing is that the family is having fun. But in Catch and Shoot, the developers have taken things to the extreme. This version of football is no longer just a sport but an action-packed game. Here, your only goal is to get the ball across different people with multiple obstacles along the way.
When we say obstacles, there are buildings apart from each other, blockades, and pursuers. Try to get the item get past all that to win the game. Then at the end, you'll try to throw the ball to get more points. This is a crazy game suitable for people who love sports so much such as football and frisbee.
Finish a Lot of Levels – Because this is a fun game, you can play in different levels. At the start, everything is still simple and fun with not much competition. But after that, the true fun begins when there's more people chasing you and more obstacles to get through. You'll need to go through blockades, bridges, and different enemies just to get the item across! Aside from that, you can collect coins scattered on the ground!
Unlock different items – Speaking of items, there are a lot of them that you can play in this game. First, you'll be able to play with the most basic which is a football. Then as you complete more levels, you'll be able to play with a frisbee, a beach ball, and many more skins. Unlock Captain America's shield as well to get the most fun out of this game! This is a game worth playing for a while just to get the items in here.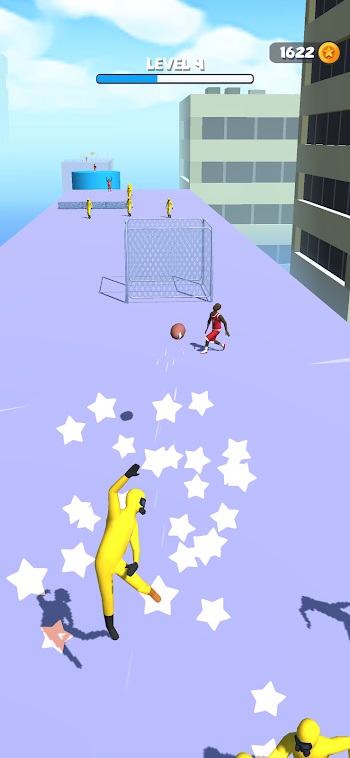 Fun skins – Aside from the unlockable items, there are also skins! Here, there are 2 separate categories such as common and rare. In the common area, you can unlock skins such as a white shirt, a red skirt, a blue and white skirt, a ninja outfit, a basketball jersey, a kid with a backpack, a football uniform, and more.
Incredibly realistic visuals – In terms of visuals, nothing beats the realism in this game. Even the enemies that are chasing for you seems like they're straight out of football matches.
Download Catch and Shoot Mod APK – Latest version
Download and play Catch and Shoot to play the extreme version of throwing today!