Download Castle Raid Mod APK - Unlimited money and play in enjoyable gameplay where you destroy enemy soldiers and raid their castle! Win in various battlegrounds to earn unlimited gems.
Information of Castle Raid
VOODOO game developers don't disappoint gamers when it comes to creating games with addictive gameplay. Right now, they have castle raid as one of their latest game where the player needs to defeat all enemy soldiers to get to their castle. The attempt is not entirely easy because there will be various obstacles on your path such as rotating machines that will crash your soldiers. However, you can make paths around them by swiping on the screen to cut the grass to maneuver the killer obstacles.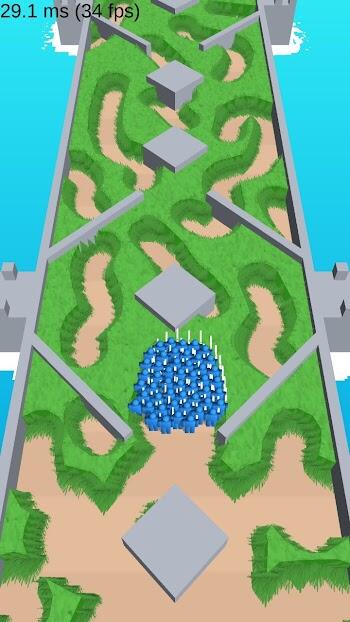 The gameplay is very exciting since you will have to control a group of soldiers who go to war with enemies to capture their castle. You will need to cut the grass, control your army, and battle the enemies. However, you need to multiply the number of soldiers in your troop to overcome the opponents easily. Without a doubt, this game exposes you to a lot of fun and eye-popping gameplay action on your Android device. You will also be competing with other players from around the globe and top the global leaderboard. Download the game now and join over 1 million gamers who are playing this game now.
Defeat Enemies and Seize Their Castle
Castle Raid by Voodoo is basically a fascinating android strategy game where you need to have an interesting battle idea to win. The game comes within various levels and over 20 battlegrounds. Here, you must battle against the wave of soldiers with unique attacking skills. You will earn unlimited gems that you can use to upgrade weapons and acquire more soldiers that are exceptionally skilled. Install the game now and explore the challenges for dozens of levels and hours of thrilling gameplay.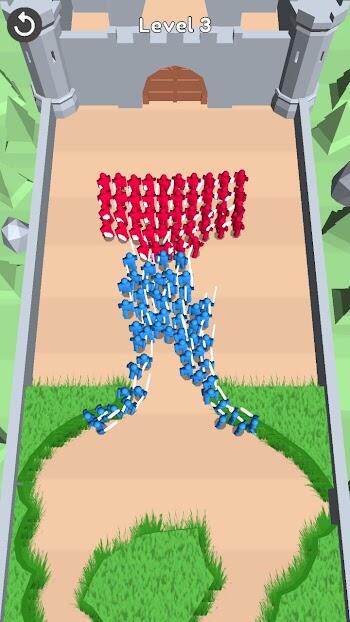 In this unique decisive battle again, you will be out to take down soldiers and seize their castle. Get ready to enter the magical battle world with knights that have only one mission! To ensure you win the battles, it would be fair to upgrade skins, weapons, armor, and other items. With this game, you will experience endless action that you will control with a swipe of your finger to lead the soldiers in the right direction!
Castle Raid Game Features
The game cannot be engaging without amazing features. Here is a highlight of some of the outstanding features of the game.
Exciting Gameplay – without a doubt, the gameplay here is very addictive and engaging. The player will need to cut the grass to control an army and battle the enemies to take their castle! To move the soldiers move forward with ease, you will need to swipe with your finger through the lawns to cut the grass. You should also avoid ramming into the various objects that will be on your path. For example, soldiers will be on your path and you will need to defeat them to get to the castle. In addition, there will be rotating obstacles that you should maneuver to get into the castle.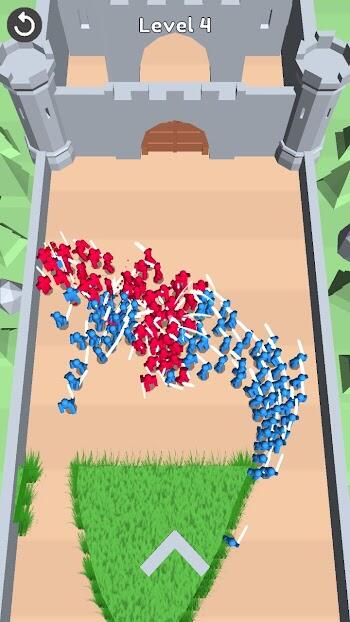 To overcome the enemy troops with ease, you need to multiply the number of soldiers you have. To do so, you just need to walk them over the multiplier features that will be on your path. This way, you will have many men to sacrifice in the battle and ensure you have others who remain to penetrate the castle. Also, don't hesitate to collect diamonds that will appear all over the area with the grass as you move your soldiers towards the enemies.
Multiplayer on a Single Device – with this feature, you will be able to play against your best friends and determine who the boss is! Complete through the various level and see who completes with more achievements than the other. While at it, be crafty to win! Come up with ideas on how you can advance towards the enemies without losing your soldiers. In fact, you will risk failing at a game level if you don't have enough soldiers!
Stunning Graphics & Beautiful Animations – the game comes with intriguing graphics that bring the best out of the game environment. Notably, you will witness the smooth movement and reflexes of soldiers on the battleground. The soldiers of the player are colorful in blue armor while the enemies are in red armor. There are rotating obstacles whose movement is very smooth.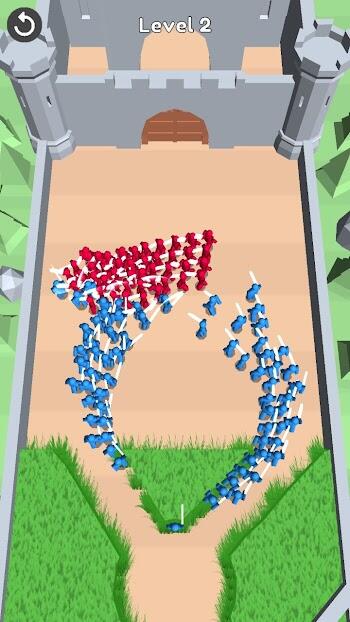 Various Game Levels – you will definitely experience endless gameplay with a number of game levels. However, you need to complete each level to advance to the other.
Unlockable Items – there are various items that you can unlock and use in this game. You have various skins, swords, shields, arrows, armor, axe, and other items that you can unlock and use to overcome your enemy.
Unlimited Rewards – you need to collect unlimited diamonds offered by this game. Collect gems on the battlefield and others after winning in every game level. Afterward, you can use the gems to unlock in-game items and soldiers.
Download Castle Raid Mod APK - Unlimited Money & Gems
Download the Castle Raid Mod APK, win every game level, and get a chance to top the global leaderboard.