Outsmart your opponents by driving and drifting to be the last one standing! Download the Cars Arena Mod APK - unlimited money and race like crazy! Don't be knocked out of the arena!
Information of Cars Arena
| | |
| --- | --- |
| Name | Cars Arena |
| Updated | |
| Compatible with | Android 5.0+ |
| Last version | 2.1.1 |
| Size | 94.18 Mb |
| Category | Racing |
| Developer | Ararat Games |
| Price | Free |
| Google Play Link | |
| MOD | Unlimited money |
If you like playing car-racing games, you will definitely love this one! The Cars arena game by Ararat Games is a special racing game with interesting gameplay. Here, you need to survive! be keen because the surface may start disappearing and you will end up falling in watery ditches!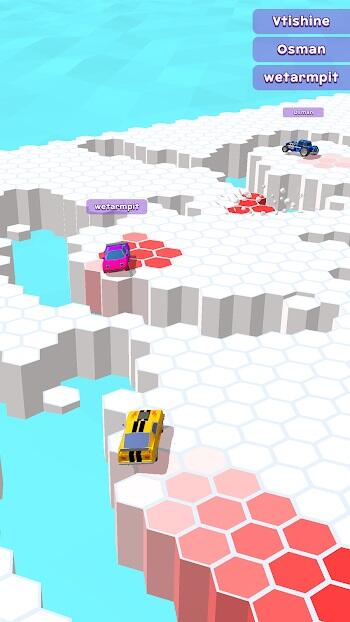 Without a doubt, this game is quite far from being a simulator and instead, we can say that it is much closer to a casual survival game. Here, you should make all your opponents lose by ruining the surfaces! That will In turn make them lose control in to the waters. Until you do that, you will not have successfully completed the game.
This game gives the players a chance to upgrade their vehicles with performance enhancements. Alternatively, you can unlock a variety of new cars that can be using unlimited money. Download the Cars Arena racing game and be the last driver on the surface!
Be the Last Driver Standing
In this game, you take part in a race where the last man to remain on the platform wins! Four players will go up against each other in this multiplayer game. The goal is to be the last driver on the disappearing surface.
The surface is made of hexagons that disappear as the cars step on them. That means that if you fall into the trap of following the path used by your opponent, you will fall and sink into the waters! That way, the game will come to an early end!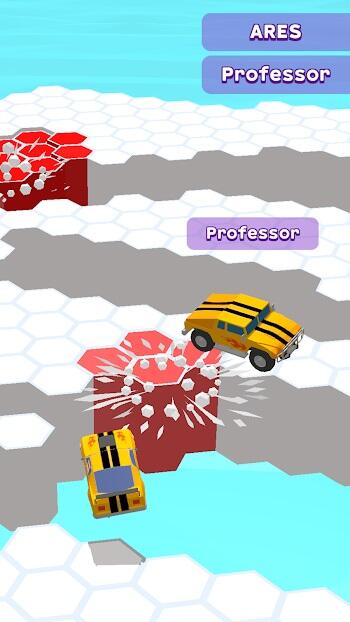 To control the car, you just have to move your finger around the screen. Moreover, you need to tap the screen each time you want to jump over one of the lefts gaps. don't fall into the trap set by your rivals! Besides, be ready for collisions too because your opponents will not hesitate to push you over the edge.
If you like engaging yet challenging racing games, download Cars Arena APK now and enjoy the fun it has to offer!
Cars Arena Features
This game is one of the car racing games with a difference. It comes with interesting gameplay where the surface disappears. You need to keep up with your rivals and outwit them to win!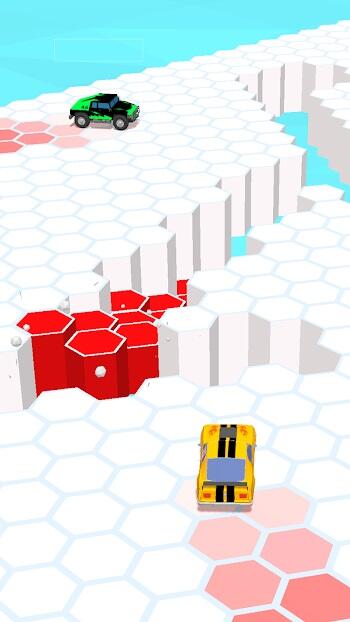 Race against Smashers – Cars Arena is an exciting 3D PvP drifting game where the player needs to race against rivals and compete for space on the platform. Every car leaves a trace behind, which makes the platform tiles/hexagons disappear. One wrong turn could throw you out of the race! So, you need to control your vehicle and drift by moving a finger on the screen in the desired direction.
Don't forget to knock off your racing rivals out of the arena! You need to be the last one standing! Be careful not to fall in the watery places. Outwit your rivals who are tricky smashers will always be looking forwards to kick you off the arena. Drive and drift faster and be first to attack!
Don't allow the difficulties to scare you! Just download the game now, have fun racing and destroying your enemies, and become the coolest driver in the arena! Join the show now and your opponents who the drift champion is!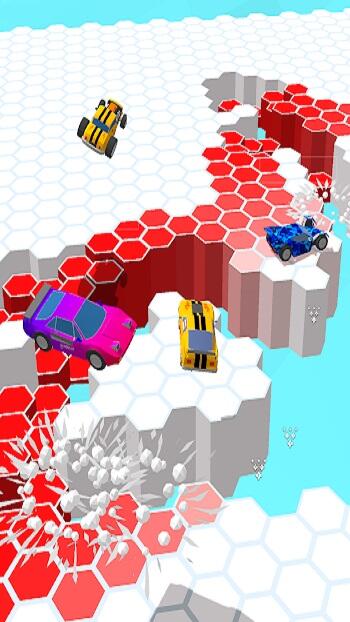 Intriguing 3D Graphics – Cars Arena is an incredible 3D physics-based game. Here, you can vividly see the 3D arena made of hexagonal tiles disappear that disappear when a car steps on them. If you make a wrong turn, you will fall out of the arena and into the water.
The movement of cars is very realistic and smooth. With the graphics here, you have a vast arena to explore as you look forward to outsmarting your rivals. The game environment is very colorful! Since it is set near a water body, the blue oceanic colors are inevitable!
Simple Controls – control your car and the drift by gently moving your finger across the screen. If you want to jump and maneuver the watery terraces left behind by your rivals, you only need to tap on the screen once! The forward movement is automated and you only need to steer your vehicle to avoid falling off the arena.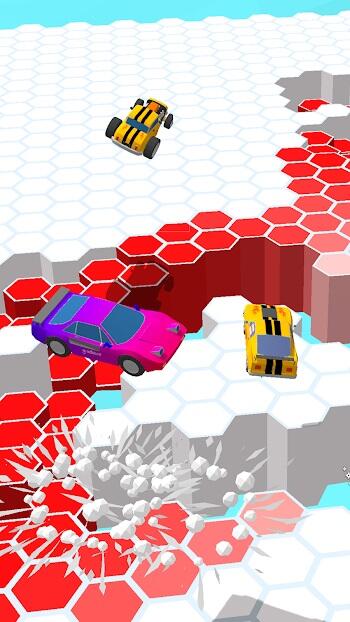 With a single tap on the screen, you could also jump and fly over other players' vehicles to avoid being rammed into! Drifting and aggressive driving will be your only way to win in this insane car racing. Whenever you need to, don't hesitate to hit the gas, propel your car, and smash other players off the arena.
Various Levels – the game comes with various levels where you need to beat all your opponents. Cars Arena is specially designed as a fully-featured arena game. Take the challenge that every game level brings and race off! Enter the arena and begin drifting and driving like crazy!
To win every level, make sure you mercilessly knock off your racing rivals out of the arena. At some levels, you will even have a vehicle fitted with a rocket launcher that you can use to blast your opponents out of the race! Dare to be a crazy and heartless driver!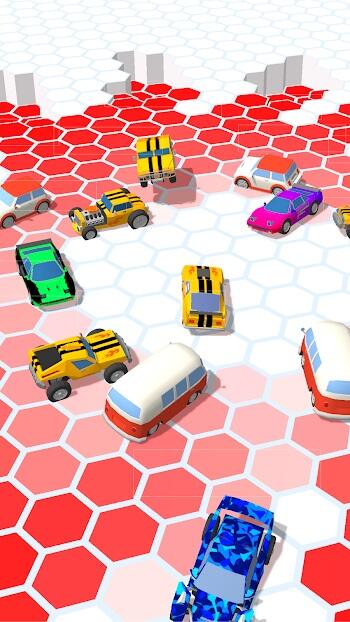 Unlock Various Cars – every won level gives the player unlimited gold coins! With this money, you can unlock cars with special features like rocket launchers and beat your opponents!
Keep beating your opponents and in all races, or even watch ad videos to gain more and more unlimited money. Using enhanced cars, you will definitely become the racing king in this game!
Download Cars Arena Mod APK – Unlimited Money
Enjoy the special racing experience by download ting the Cars Arena Mod APK now! Win every level and earn unlimited gold coins that you can use to unlock more cars!