Download Car Simulator San Andreas Mod APK Unlimited money Latest version to drive and explore a vibrant city & an American village. It has realistic car damage and 3D graphics.
Information of Car Simulator San Andreas
| | |
| --- | --- |
| Name | Car Simulator San Andreas |
| Updated | |
| Compatible with | Android 4.4+ |
| Last version | 0.3 |
| Size | 332.3 MB |
| Category | Simulation |
| Developer | Sad City, 17 |
| Price | Free |
| Google Play Link | |
| MOD | Unlimited money |
About Car Simulator San Andreas
Car Simulator San Andreas APK is a driving simulator game released by Sad City, 17. It offers dynamic challenges that will test your skills in driving and parking.
The game is set in an open-world environment, inspired by San Andreas. If you're a fan of GTA, this city will surely feel familiar to you.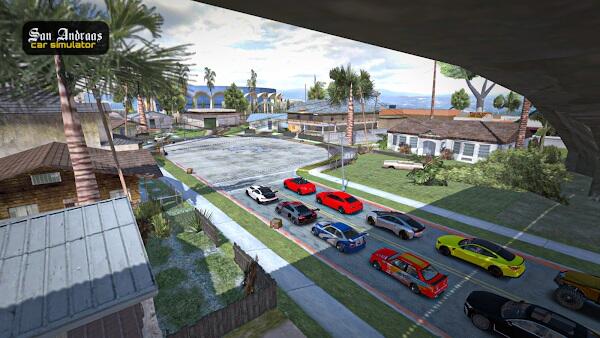 This time, you will not be into crime missions or anything related to that. You will be driving around the city, discovering new places, and parking your car in the most challenging spots.
The missions vary from driving to a specific location, parking in a tight spot, or even racing other players. Whichever task you choose, you will be rewarded with in-game money that you can use to buy new cars or upgrade your existing ones.
If you're looking for a super authentic driving experience, you should download Car Simulator San Andreas APK for Android. The game is approximately 333MB and requires Android 4.4+ devices to work optimally.
Explore Cities & Countryside
This game gives you the chance to drive through massive 3D open-world environments. The map is much bigger than most driving simulation games. With that said, there's plenty of room to explore and have fun!
You begin the game with little resources and a few unlocked vehicles. However, you shouldn't worry since the initial missions are pretty straightforward. After a few minutes of gameplay, you will have earned enough cash to buy your first car.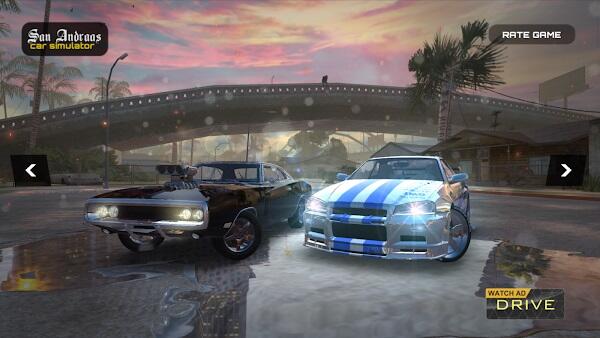 Once you unlock better vehicles, you will reach incredible speeds and be able to do some fabulous stunts. The developers also included a dynamic weather system that will affect your driving experience.
For example, you will have to be more careful when driving in the rain or snow. The same goes for night-time driving; it's much more challenging to see the road at night.
The controls will take some time to get used to, but they are pretty straightforward. Once you comprehend the basics, you will have no problem driving around the city or taking on missions.
Undertake Different Maneuvers
If you want more thrilling escapades, you can take on different mission types. As mentioned, the initial missions are pretty easy and will help you get used to the controls.
After a while, you will have to start completing more difficult tasks, such as driving over the edge of a cliff or squeezing into a tight parking space. The acrobatic stunts are the most exciting part of the game!
They will help you gain driving confidence while letting you earn more cash. This way, you can buy more powerful vehicles that can do even more impressive stunts. It would help if you also tried the racing missions.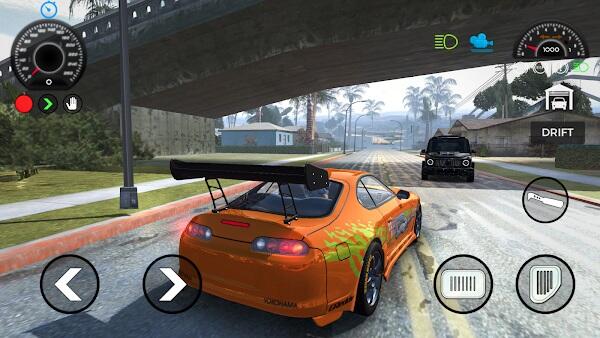 These missions are against other players in real-time. You will have to put your driving skills to the test and show everyone who the boss is! The same goes for the deathmatch mode; it's you against everyone else.
Different Driving Tracks
If driving on asphalt isn't enough for you, try one of the many off-road tracks. The countryside is riddled with dirt roads, rivers, and even forests.
You will have to be careful not to damage your vehicle or get stuck in the mud. The off-road tracks are a great way to explore the map and find new locations.
There's also a wide variety of vehicles that you can use, including sports cars and SUVs. Each vehicle has its own features, such as speed, agility, and durability.
You will have to experiment with each to find the perfect match for your play style. Upgrading your vehicles is also a great way to make them more powerful and improve their stats.
Customize Your Car
This game is regularly being improved. One of the additional features that have been added is the ability to customize your car.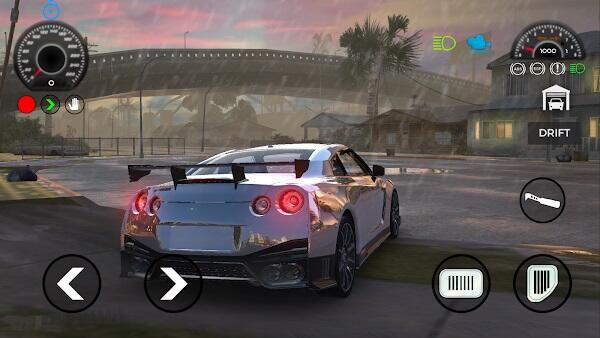 This element gives you more control over how your vehicle looks and drives. You can add different types of wheels, paint jobs, and decals.
You can also change the car's body kit to make it look more aggressive or aerodynamic. Overall, your modification should be geared towards improving the car's performance. Whether it is changing the engine or improving the suspension, you will have to experiment to see what works best.
Other Outstanding Features of Car Simulator San Andreas APK
Realistic Car Sounds. You will not differentiate the game from reality with the car's sound in this game. The blaring of horns, the screeching of tires, and the revving of engines will make you feel like you're in the thick of things.
Interactive Environment. You can do more than just drive around in this game; you can also interact with your surroundings. For example, you can go to the gas station and fill up your tank or park in a garage to save your progress.
Detailed Interiors. The developers paid attention to even the smallest details. The car interiors are rendered beautifully and look just like their real-world counterparts. You can also see the drivers' hands on the steering wheel as they turn.
Realistic Car Damage. The car damage system is one of the most impressive features of this game. Crashes look and feel real; you will see the crumpled metal and broken glass as your vehicle takes damage. You will have to be careful not to wreck your car, or else you'll have to start all over again.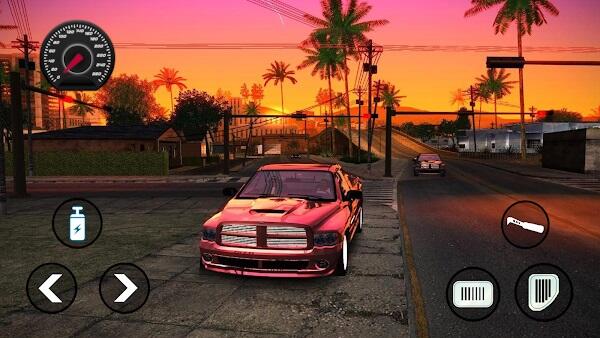 Day and Night Cycle. The game environment changes as the day goes by. You will see the sun rise and set as you're driving around. This feature makes the game world feel more alive and adds to the overall realism.
Car Simulator San Andreas MOD APK Download
If you want a more enhanced driving experience, you should try the Car Simulator San Andreas MOD APK 2023. This MOD has many features that are not available in the original game, including:
Car Simulator San Andreas MOD APK Unlimited Money. With this MOD, you will not require in-app purchases to get the best vehicles. You can also upgrade your cars to the max without worrying about the cost.
No Ads. The Car Simulator San Andreas MOD APK for Android also removes all the annoying ads from the game. You can enjoy the beauty of the city without seeing pop-ups or banners.
Conclusion
Car Simulator San Andreas is a well-detailed simulation game featuring beautiful graphics, realistic car damage, and an interactive environment. It also has a wide variety of vehicles to choose from and an extensive customization system.
With the Car Simulator San Andreas MOD APK, you will get even more features, such as unlimited money and no ads. Download the MOD APK today and start your driving adventure.