Download Candy Crush Saga Mod APK - Unlimited gold bars and boosters and join Tiffi and Mr. Toffee in exploring the Candy Kingdom. Get a taste of this epic journey to sweetness!
Information of Candy Crush Saga
Candy Crush Saga is a match-three puzzle game that was first launched on Facebook in 2012. Up to this day, the game manages to claim a spot on most devices—now nearing to its 3000th level. Needless to say, the game showcases a sense of progress, which led the users to be more addicted.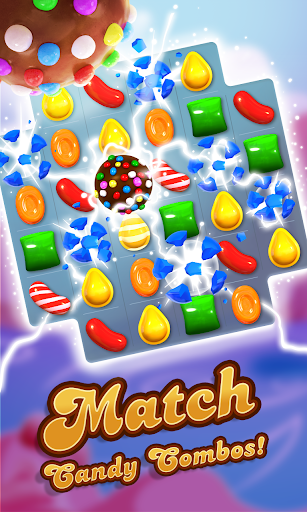 Candy Crush Saga involves matching three candies with the same color. With the game's limited moves, the player wisely swipes up, down, and sideward in order to complement the sweets. Doing so prevents the player from losing a life out of five given lives.
Meanwhile, if the player is tactical, the player may achieve four matching candies, which may turn into a striped candy. Whether the move is made vertically or horizontally, these striped candies may clear a column or a row, respectively. If the player is feeling luckier, he/she may achieve a color bomb. These color bombs can eliminate all the complementing sweets currently on the board.
On the other hand, each level gets harder because the goal varies along the way. The player may be asked to move certain game pieces to the bottom of the screen. It may also be that they need to achieve a certain score. Or, they may need to clear away hindrances like cream or jelly by making matches beside these barriers. The game may seem euphoric, but the game actually requires patience and strategy.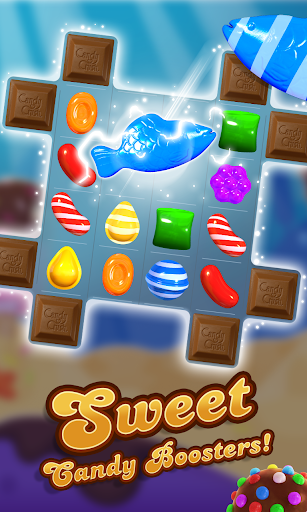 Along these pretty intense goals, the game still lives up to its sweet theme. If the player loses all of her or his lives, it can all be regenerated over time. But, if the player can afford to pay, he or she can just opt to avail of in-app purchase. Meanwhile, the game also provides power-ups and specialty candies, such as striped candies, wrapped candies, and color bombs. These things can greatly help the players, especially in later stages of the game.
Highlights:
One-player game mode
Exciting and refreshing levels
Acquiring power-ups and specialty candies
Journeying through different places in Candy Kingdom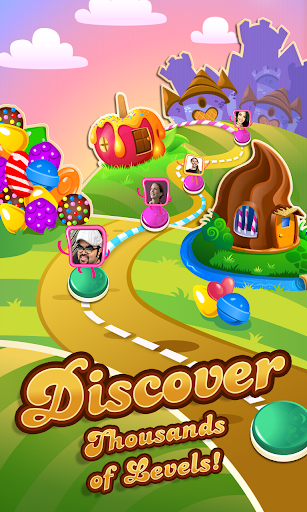 Vibrant and Compelling Graphics
Candy Crush Saga has cute and colorful visuals that will make you crave for more. It is so inviting that you would want to further explore the Candy Kingdom with Tiffi and Mr. Toffee. While the game seems very light, each level gets harder which adds to its charms. These little achievements will make you seek for more as it becomes addictive.
Download Candy Crush Saga Mod APK - Unlimited gold bars and boosters
Plunge into sweetness with Candy Crush Saga Mod APK Latest Version. Satisfy your sweet cravings and crush each level divinely with all the features unlocked. Do not forget to master using your power-ups and specialty candies along the way.
What are you waiting for? Download the Mod version and explore the Candy Kingdom now!