Download Cafe Racer MOD APK unlocked bikes latest version and enjoy action-packed motorcycle racing. It has high-level customization options to allow you to personalize the gameplay.
Information of Cafe Racer
| | |
| --- | --- |
| Name | Cafe Racer |
| Updated | |
| Compatible with | Android 4.1+ |
| Last version | 11 |
| Size | 91.39 Mb |
| Category | Racing |
| Developer | PiguinSoft |
| Price | Free |
| Google Play Link | |
| MOD | Unlimited money |
Unlimited Money ( Money increase when spent! )
Cafe Racer is a racing game developed by PiguinSoft. It boasts unique low poly graphics and insane sound systems for optimum enjoyment.
Additionally, the game has no fuel bars and no timers! As such, it will just be about controls and ensuring that you reach neck-breaking speeds while enjoying every moment of the adrenaline-filled encounter.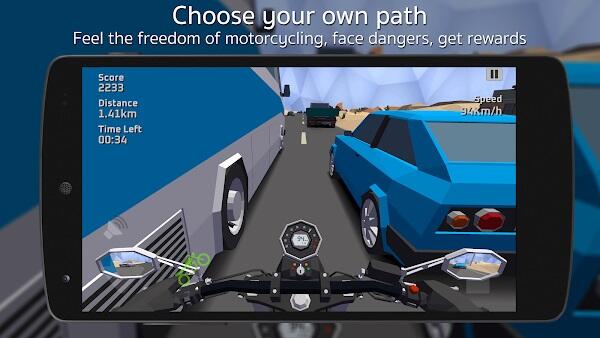 Even better, Cafe Racer is set in a highly realistic environment. You'll, albeit for a moment, forget that this is just a game! If you're ready for unforgettable racing escapades, download Cafe Racer for Android today.
Immersive and Nerve-Racking Gameplay
Cafe Racer is a simple game that uses a simple first-person gaming concept – control your motorbike with no limitations whatsoever. It is set in a realistic environment that varies depending on the level and your customization choices.
The background environment is primarily simple and inspiring. The intention is to let you concentrate on the gameplay.
When you begin the game, you will select your motorcycle and customize it to your liking. You'll then start your racing in a simple level to allow you to acclimatize with the environment.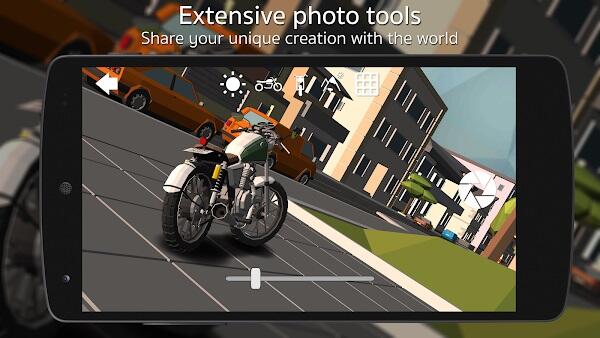 However, the gameplay becomes challenging as you continue. The higher the speeds you achieve, the tougher it will be to control your motorcycle.
You'll move through two-way roads, through the cities, and other different environments. Here, you must prove your prowess as you swerve left and right to maneuver through city traffic.
Diverse Motorcycles Available for Racing
In Cafe Racer, you will have a variety of bikes - from small to big ones. You'll have a choice of considering several features that include acceleration, horsepower, and weight among other options.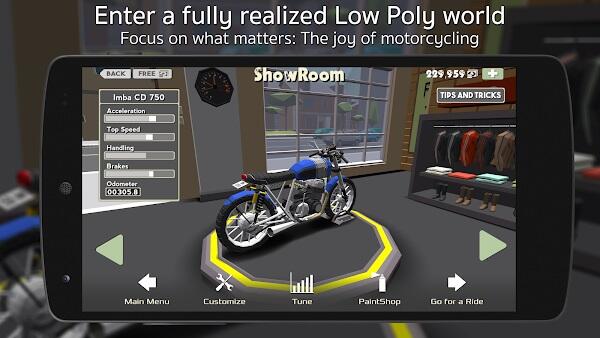 The motorcycles available start from 125cc single-cylinder to more superior in-line fours. It also comes with boxers and in-line two-cylinder motorcycles for your consideration.
Diverse Skins/ Environments
Every time you play the game, the environment will be different. You can race through mountains, deserts, windy roads, and more. The surroundings are highly realistic. As a result, there is never a dull moment in this game.
High-Level Customization Options
This game has high customization options that make it worthwhile. You can change the physical features of your bike, change its aesthetics and even upgrade it to suit your preferences.
You will certainly own the bike when you use the customizing options in this game. You can change the front and backlights, exhaust pipes, chassis system among other features.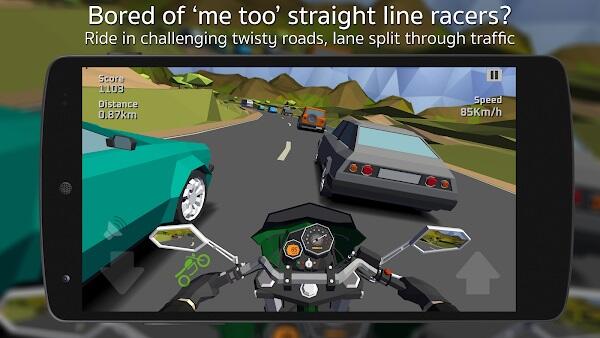 You can even put on decals to personalize your motorcycle any way you like. Everything about your ride will be customized including its throttle grip color, nitrous oxide color, and much more!
Highly Intuitive Controls
Cafe Racer is very easy to play. The controls are not complex at all. You don't have fuel bars you have to monitor or time limits to abide by. All you need is speed and avoiding obstacles along the way!
The game has simple touch-based controls that are intuitive enough even for new gamers. As such, if you're a novice looking for a more advanced approach to fast-paced racing.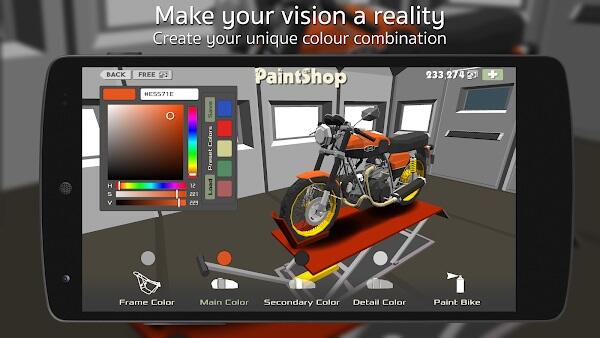 You can tilt, slide, touch, or use a gamepad for controls. The up arrow will come in handy for acceleration while you can use the down arrow to brake and stop. Pressing the middle edges of the screen will enable you to look around and spot obstacles fast.
Quick Tips of Winning Cafe Race Game
Don't push too hard on your accelerator pedal because it would be very difficult to control the motorbike.
Steer left and right carefully as you speed up to avoid hitting obstacles along the way.
The brake will come in handy when you need to slow down or stop fast. It is located on either side of the screen.
Make smooth turns to avoid impacting obstacles on your way.
To earn extra points, you should ride faster! Riding past 100 km/h and overcoming obstacles will earn you bonuses. When you rise to higher difficulty levels, you'll also get better rewards. You can also find alternative routes to avoid obstacles.
Cafe Racer MOD APK Free Download
Cafe Racer MOD APK 2021 has extra features that will add more thrill to the gameplay. They include: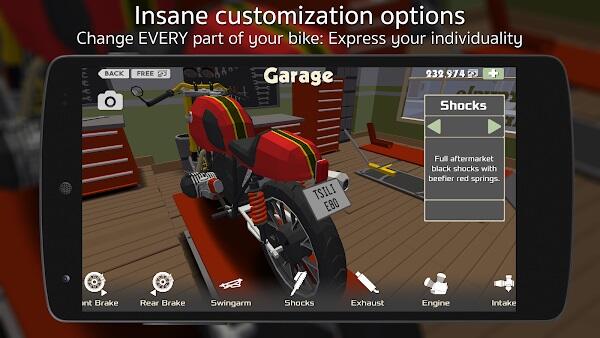 Cafe Racer MOD APK Unlimited Money. This version comes without any limit. You can acquire anything you like! With the money addition, you can upgrade your motorcycle and enjoy limitless entertainment.
Unlocked Bikes. Cafe Racer MOD APK unlimited money and unlocked bikes allow you to access any bike that you want without restriction. Additionally, you can modify it to your liking without any hassle.
No Ads. Cafe Racer MOD APK new version does not have in-app ads that will disturb you while playing. As a result, the game experience is more enjoyable and thrilling.
Unlimited Skins. Cafe Racer MODS come with unique gaming environments. You'll have unlimited options to choose from. Whether you want to race in cities or along oceans, you'll have it all with this version!
Unlimited Customization Options. The Cafe Racer Garage MOD APK comes with numerous options that allow you to personalize the gameplay. You can have unrestricted access to the garage, thus allowing you all the spare parts you need to make your bike a beast!
Cafe Racer MOD APK download is most certainly everything you need to enjoy neck-breaking speeds. Its highly intuitive controls will leave you yearning for more gameplay.
Conclusion
If you are a fan of racing games, you'll certainly love the new and improved gameplay of Cafe Racer APK. It will challenge you and bring out your competitive edge!
It features highly responsive graphics that deliver thrilling gameplay. You'll run through the streets in a fast-paced race while enjoying intuitive controls.
It is a great way to kill time and have a blast in a few minutes or so whenever you want!