Download Bucket Crusher Mod APK Unlimited money, no ads latest version and crush brick walls. You will have different challenges with diverse objectives and rewards.
Information of Bucket Crusher
| | |
| --- | --- |
| Name | Bucket Crusher |
| Updated | |
| Compatible with | Android 5.0+ |
| Last version | 1.3.18 |
| Size | 112.31 Mb |
| Category | Simulation |
| Developer | VOODOO |
| Price | Free |
| Google Play Link | |
| MOD | Unlimited money, no ads |
Unlimited money (play 3 to 4 turns)
Bucket Crusher is a free simulation game by VOODOO. It has simple graphics with super easy gameplay ideal for everyone, including children.
It requires you to break as many bricks as possible using a bucket crusher. The game is quite addictive, with multiple different levels to beat.
If you want a game to help you relax and pass some time, Bucket Crusher is a perfect choice. It is compatible with Android 5.0 (and above) devices.
A Relaxing Gameplay
This game doesn't feature complicated gameplay. At each level, you will be given a number of bricks that you have to destroy.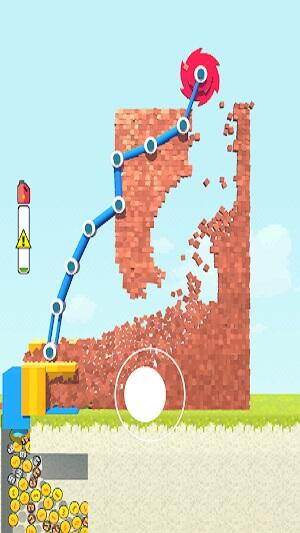 You will start with small bricked walls, and as you progress, the levels will get harder with more bricks. The game is quite relaxing and can help you de-stress after a long day. There are no time limits, so you can take your time and enjoy the gameplay.
However, you can run out of fuel, which will end the game. To avoid this, you must regularly replenish your fuel supply by picking up gas cans. Also, ensure that you complete the levels quickly to save on fuel.
Earn Coins
This game is set in a way that you will collect coins while destroying bricks, simultaneously. As the bricks accumulate, you will use your bucket to empty them underneath a hole, and they will convert into coins!
The more bricks you destroy, the more coins you will earn. You can then use them to purchase different upgrades and items in the game.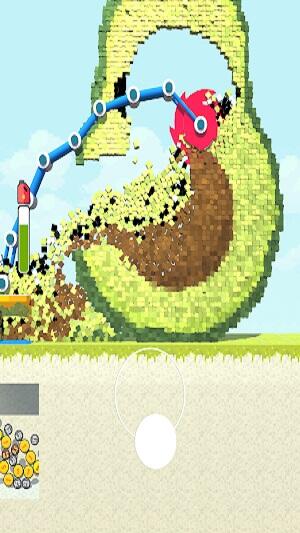 Always ensure that you earn as many coins as possible to progress quickly in the game. Also, don't forget to buy upgrades! They will help you in the long run.
Powerful Upgrades!
There are different upgrades available in Bucket Crusher, each with its unique benefits. You can purchase them using the coins that you earn by destroying bricks.
Some of the upgrades include:
The length of your crane will determine how far you can reach when trying to destroy bricks. A longer crane means you can destroy more bricks and earn more coins.
Additionally, the walls' heights will increase as you progress in the game, so a longer crane will be necessary to reach the top. You can also use the crane to engulf the whole house and bring it down in seconds! This is the ultimate secret to success in Bucket Crusher.
The bucket size will also increase as you make progress in the game. A larger bucket means that you can destroy more bricks at once and earn more coins.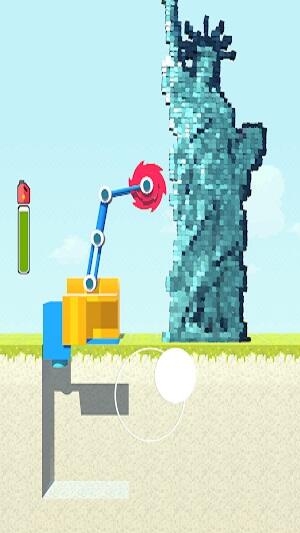 A bigger bucket is always better, but it comes at a price. You will have to use more fuel to move a larger bucket, so always be mindful of your fuel supply.
Your fuel tank can be upgraded to hold more fuel. This is essential if you want to play the game for an extended period without running out of oil.
The larger fuel tank will help you save on coins, and since you won't have to purchase gas cans as often.
The crane's speed can be increased to make the gameplay more exciting. If you find the game too easy, you can increase the speed and make things more challenging.
Moreover, a faster crane means you can destroy more bricks and earn more coins. This way, you can progress quickly in the game and unlock new levels.
Unlock Features Using In-Game Purchases
Tearing down walls and structures should be effortless. With the right upgrades, you will make progress quickly in the game.
However, if you want to save on time, you can use real money to purchase in-game items that will help you destroy more bricks and earn more coins. The items are highly affordable as they cost $2.99 per item.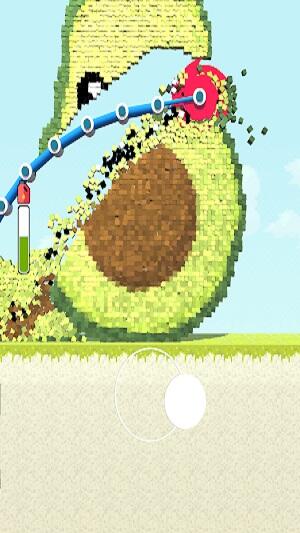 You can use them to buy oil, gas cans, and other upgrades. The in-game purchases offer the surest path to success in the game.
Other Outstanding Features of Bucket Crusher APK
Advanced User Experience. This game features a simple user interface that guarantees an excellent user experience. The controls are also straightforward, and anyone can master them quickly.
Simple Graphics. The graphics are of high quality, making the gameplay more exciting. Additionally, the soundtracks are captivating, and they will keep you hooked to the game for hours.
Regular Updates. The developers often release updates to keep the game interesting. New levels, items, and features are added often to improve the user experience.
Realistic Game Physics. This game is based on realistic physics. You will see the rotating bucket, the falling bricks, and the coins as you play. You will also see the length of the crane increase, and sometimes, you will need to use more energy to destroy a wall.
Bucket Crusher MOD APK Download
If you want to enjoy this game to the fullest, you should download the Bucket Crusher MOD APK for Android. This version of the game comes with the following distinctive features:
Bucket Crusher MOD APK Unlimited Money. The game's virtual currency can be used to purchase any in-game items. You will have an unlimited supply of coins, helping you progress quickly in the game.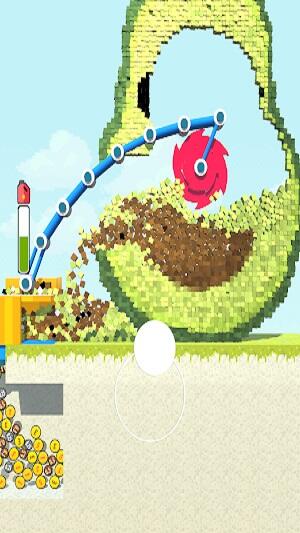 Bucket Crusher MOD APK No Ads. The modded version removes irritating adverts, allowing you to concentrate 100% on your crushing mission. This way, you will achieve your missions faster.
Bucket Crusher MOD APK Unlimited Fuel. The fuel tank is upgraded to hold an unlimited amount of oil. You won't have to worry about running out of oil as you play.
Bucket Crusher MOD APK Anti-Ban. This game is safe to play, and your account will not be banned for using this version of the game.
Conclusion
Bucket Crusher is an excellent simulation game that requires players to use their skills to destroy walls and earn rewards. The game is easy to play and suitable for all ages.
The graphics are of high quality, and the soundtracks are also captivating. You will enjoy playing this game for hours without getting bored.