Do you like running and slimes? If you do, then download Blob Runner 3D now to run on different obstacle courses to win rewards. Unlock hats and more rewards!
Information of Blob Runner 3D
Note: Play a stage to get more money
Slimes and obstacle races would seem like an unlikely pair of things for a mobile game. But that's exactly what Rollic Games did when they published Blob Runner 3D! This is a game that is exactly what it sounds like. You will run as a slime in the shape of a human on a course riddled with different obstacles. Be careful though, you can grow and shrink as you encounter different obstacles.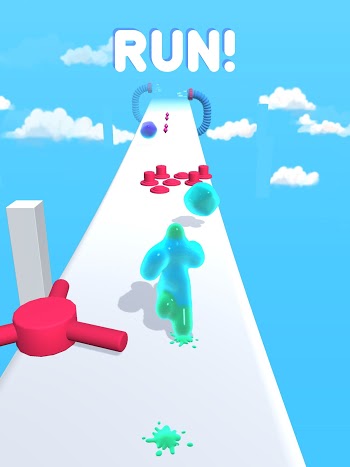 In this game, there are a lot of levels that you can accomplish. There are different types of obstacles that may stand in your way such as spikes, lines and different rolling things. You may also grow by getting more slimes along the way. Then, you'll also need to collect red diamonds to unlock different hats! There are a lot of fun things to accomplish here.
Run as a Slime
Over the years, there have been a bunch of trends that come and go. One of them are slimes! People would show videos of themselves creating different types of them and they would garner millions of views and likes. In this article, we're going to showcase a mobile game that features slimes and obstacle courses! Blob Runner 3D is a unique running game that you should download today.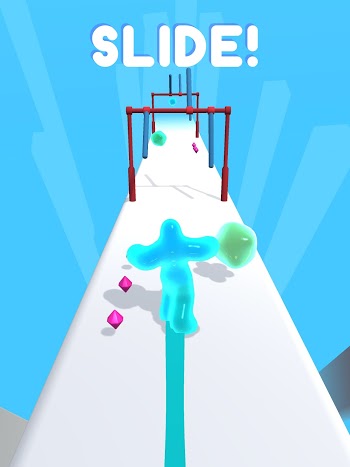 You will need to run as a slime shaped like a human in different obstacle courses. Each level presents difficult challenges that you must overcome. There will be obstacles in every lane and corner so you must do your best to retain as much slime as you can. If you do, you'll get better rewards at the end of the game! But aside from that, you can unlock skins and hats which would make your slime look even better. Care to play a fun slime game today?
Features of Blob Runner 3D
Do you want to become a slime runner? Blob Runner 3D is the best game to play now. Here are what you can expect in this fun game.
Play as a slime human – Slime has been an on and off trend for the past years now. But if you're still enchanted by these objects, download Blob Runner 3D now. This game highlights slimes as the main character. You'll play as one shaped like a human while running through different obstacle courses prepared by the game. There are many exciting things to do in this game which is a testament to its popularity with half a million downloads as of right now. Play as a slime and run towards the finish line now!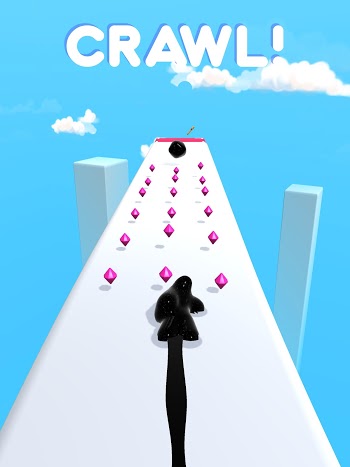 Encounter many levels – In this game, you will need to finish more than a dozen different levels. Each one has different obstacles in store for you. There are spinning lines, chainsaws, walls and more. At the end, you'll jump on a trampoline and on a slime register to see how much slime you've got left. But you also need to be careful as the obstacles may take away some of your jellies. However, you can recover them as long as you don't get completely demolished. There are a lot of slimes scattered in the game as well as diamonds. Try to collect as many as you can so you can get plenty of rewards at the end of the game.
Get rewards – You'll be able to get many diamonds and rewards at the end of the game the more slime you retain on your body. This is the challenge in this game. You'll not just be tasked to survive but to excel as well.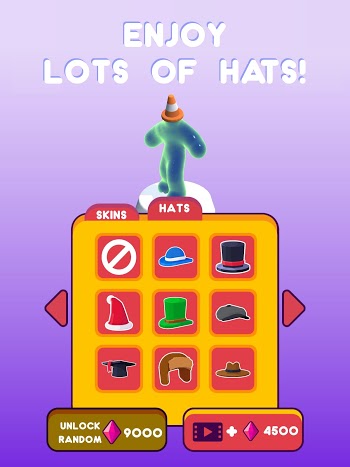 Unlock skins and hats – Blob Runner 3D also allows players to unlock many types of skins and hats. You can become a completely black slime or a gummy bear! There are also fancy hats to choose from such as a gentleman's hat, an Irish' hat, a cowboy one, a graduation hat, a Christmas hat and many more. You can unlock more diamonds by watching video ads!
Smooth gameplay and graphics - Blob Runner 3D is a marvelous game with decent graphics and smooth gameplay. The obstacles were designed to give players a challenge and everything is smooth. The slime animation looks realistic as well!
Download Blob Runner 3D Mod APK – Latest version
Do you enjoy running and slimes? Download Blob Runner 3D right now and enjoy running as a slime.