Download Black Border Patrol Simulator MOD APK latest version and play the role of a border officer. You must check travelers' documents & confiscate illegal items.
Information of Black Border Patrol Simulator
| | |
| --- | --- |
| Name | Black Border Patrol Simulator |
| Updated | |
| Compatible with | Android 6.0+ |
| Last version | 1.3.09 |
| Size | 101.7 MB |
| Category | Simulation |
| Developer | Bitzooma Game Studio |
| Price | $2.49 |
| Google Play Link | |
| MOD | Unlimited money |
About Black Border Patrol Simulator
If you've been to any border, you opine that the verification and screening of travelers is a challenging job. The border police officers are always busy ensuring travelers don't bring contraband or illegal goods into the country. And this is exactly what you'll do in Black Border Patrol Simulator APK for Android.
The game places you in the shoes of a border police officer and asks you to check travelers' documents and scan their luggage for illegal items. You'll be presented with different levels that become increasingly difficult. Your objective is to spot anything out of the ordinary, including clues about smuggled goods and unauthorized immigrants.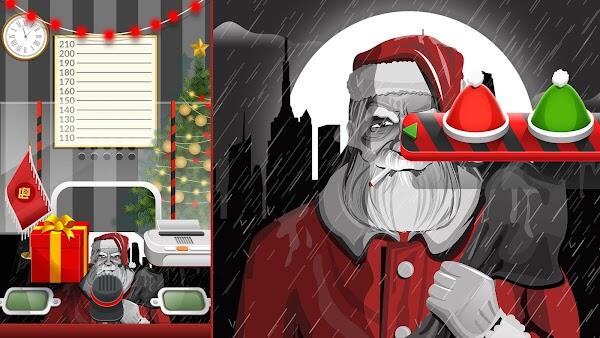 When you notice something suspicious, you must take action. You can confiscate illegal items and detain travelers to interrogate them further. If you complete a level, you'll be rewarded with special rewards and bonuses that will help you progress further in the game.
Overall, this game will offer the most authentic experience of border policing. It will help you appreciate the tough job of a border police officer and understand the critical role they play in protecting any nation.
Black Border Patrol Simulator APK - Background Story
This game is set on the Elamis Border, which is a high-risk zone where your country is at risk of infiltration from illegal immigrants and contraband. An intense war has just ended in the region, and the government has undertaken to ensure utmost security at the border.
As a result, the country has deployed special forces to ensure the safety of its citizens. You will play as a member of these special forces tasked with patrolling the borders.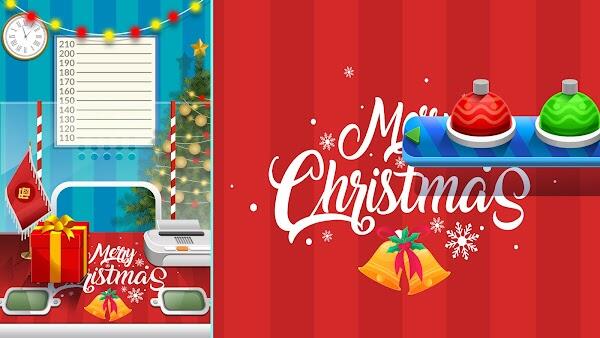 You will be equipped with state-of-the-art technology to scan travelers and vehicles as they pass through the borders. Your job is to ensure no illegal item/person passes without proper scrutiny.
The developer, Bitzooma Game Studio, has recreated the border stations with unmatched accuracy. This guarantees an authentic experience as you undertake your assignments. Ensure you never miss a clue since utmost precision is required to keep the borders safe!
How to Play Black Border Patrol Simulator Game
This game guarantees a straightforward user experience. When you launch it, you will be presented with the main menu where all the levels & settings are placed. Here, you can manage your profile, check records of all travelers, adjust game settings, and access inventory.
To start playing, select a level and scan travelers' luggage with the help of an x-ray machine. Ensure you check for any illegal items or suspicious behavior. If anything is out of place, take action immediately and confiscate the item.
Once you do, ensure you arrest the person and interrogate the suspect further. They may help you get clues about other illegal activities at the border. Whatever you do, always ensure that only authorized persons are allowed to enter.
Fortunately, the game is quite generous with its awards. Every time you complete a level, you'll get unique rewards, including coins and exclusive items in your inventory. You can then use them to upgrade your abilities and improve your border policing performance.
Lots of Fulfilling Activities to Undertake
As with any other border, you will be required to remain vigilant and be on your toes. Here is a brief overview of the activities you'll undertake in Black Border Patrol Simulator MOD APK for Android:
Check Papers. When traveling, all people are required to present appropriate documents, including visas and passports. You must check their full name and ensure the documents are valid (be keen on expiry dates).
Check the Passenger's Face. It is critical to ensure the face of the traveler matches the details in the passport. Also, ensure they don't appear agitated or hesitant since this could be a pointer to illegal activities.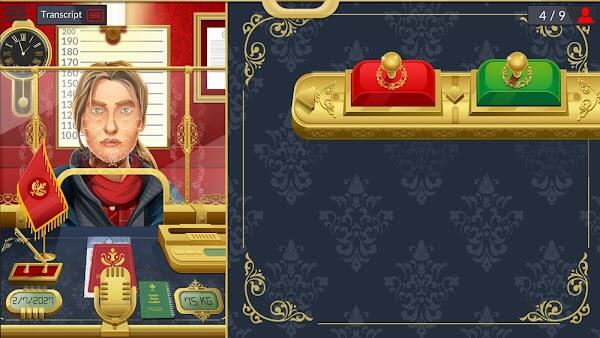 Search Luggage. Your job involves inspecting luggage thoroughly for any signs of illegal items and activities. Make sure you check all compartments for contraband such as drugs, weapons, and other prohibited materials.
Confiscate Illegal Items. Always be on the lookout for contraband such as drugs, weapons, and other illegal items. Whenever you find any of these, confiscate them immediately.
Interrogate Suspects. If you notice any suspicious behavior, you must take action and arrest the person. Further, interrogate them to get more information about their activities & other people involved in the crime.
Overall, you must always be prepared for anything at the border. The experience is quite thrilling and rewarding in equal measure. Download the game and create an impenetrable border wall.
Other Unique Features of the Black Border Patrol Simulator Game
Sophisticated Tools and Equipment. This game provides sophisticated equipment for patrolling the borders, including x-ray machines. They help you detect any suspicious behavior from travelers with unparalleled ease.
Super Intuitive Controls. The game provides a range of intuitive controls, making it easier to control your character. You can adjust the various settings to create unique experiences as you patrol the borders.
Dynamic Gameplay and Challenging Levels. You will encounter different scenarios each time you play this game. The levels are quite challenging and you'll require utmost precision when dealing with the suspects.
Numerous Customization Options. You change the graphics, game speed, volume, and other settings. You can also customize your character, including changing their look and abilities. This way, you will create a highly personalized gaming experience to suit your style.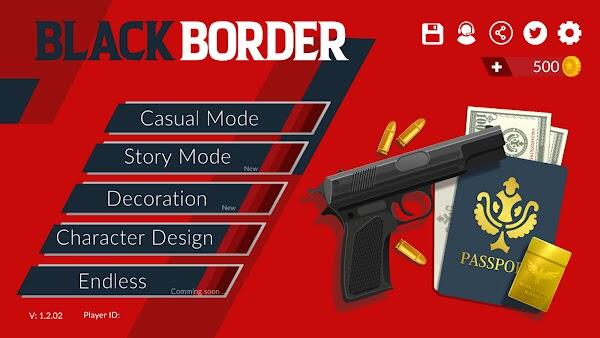 Unrivaled Graphics and Flawless Animations. The game was designed to absorb you into the environment. It will transport you to the border of a war-ravaged country with its exceptional graphics and flawless animations. You can also choose between high and low graphics, depending on your device's capabilities.
Multi-Language. You will enjoy the multi-language support, which allows you to switch between different languages during gameplay. Common ones include German, English, Polish, Spanish, Arabic, and Japanese. This feature makes the game accessible to gamers in different regions.
Casual and Story Modes. The casual mode places you in the shoes of a border patrol officer, where you must prevent illegal activities at all costs. The story mode is more thrilling as it takes you through a series of missions with increasing difficulty levels.
Highly Dynamic and User-Friendly UI. The game has an intuitive and highly dynamic user interface that simplifies your gaming experience. You will find it easier to navigate the game's menus and make better use of its features.
Multiple Endings. This game offers a unique twist and has multiple endings, depending on the decisions you make. You can choose to save innocent people, arrest smugglers, or even apprehend terrorists. The ending you get will be based on your choices and actions during the game.
System Requirements and Additional Information
This game is relatively lightweight (approximately 102MB) and can work seamlessly with Android 6.0+ devices. It also requires a minimum of 2GB RAM and 500MB of free storage space for optimum performance.
The developer regularly updates the game with new features, bug fixes, and improvements. This way, you can enjoy a fluid gaming experience at all times. For example, upcoming updates will include:
New Stories
Endless mode
New game modes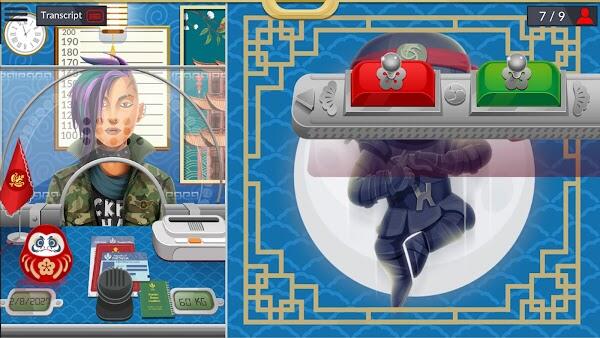 Additionally, the game offers family cost management and opposition groups communication to ensure you have an all-rounded experience. Its high-level immersion will surely make you feel like a real border patrol officer.
Even better, the game provides in-app purchases ($0.99 - $74.99 per item) to enhance your gaming experience. With these purchases, you can upgrade your character, unlock new levels and storylines, and much more. This way you'll always get more out of your gaming experience.
Tested and Proven Tips for Playing the Game
Stay Alert at All Times. Ensure you keep an eye out for any suspicious behavior from travelers and be prepared to take action if needed.
Use Your Intuition. The suspects often give subtle hints that can reveal their intentions. Try to pay attention to these clues and act accordingly.
Explore The Environment. You will come across many interesting objects to help you in your mission. Don't be afraid to explore and search for any hidden items or clues.
Stay Focused On the Goal. The game offers a variety of side missions and tasks but always remember your primary goal. Don't get sidetracked, and stay true to providing much-needed security to your country.
Conclusion
Black Border Patrol MOD APK download is an exciting game that puts you in the shoes of a border patrol officer. It challenges you to protect your nation from illegal activities, smuggling, and terrorism. This game offers jaw-dropping graphics, user-friendly UI, multiple endings, and endless opportunities for a thrilling gaming experience.
It is lightweight, highly immersive, and can be played on devices running Android 6.0+. With developer updates and in-app purchases, the game guarantees hours of gripping gaming and leaves you wanting more.