Download Bad Piggies Mod APK Unlimited items Latest version and find creative ways to pilot bad piggies to the eggs. You must create a machine to steer them to their destination.
Information of Bad Piggies
| | |
| --- | --- |
| Name | Bad Piggies |
| Updated | |
| Compatible with | Android 5.0+ |
| Last version | 2.4.3348 |
| Size | 170.82 Mb |
| Category | Puzzle |
| Developer | Rovio Entertainment Corporation |
| Price | Free |
| Google Play Link | |
| MOD | Unlimited items |
Bad Piggies is a unique puzzle game offered by Rovio Entertainment Corporation. It tests your engineering and construction skills. You will construct a vehicle to help the Bad Piggies reach their eggs.
The machine/vehicle you build has to be stable and sturdy enough to withstand any terrain or obstacle. Along the way, you will come across different kinds of objects that can be used to improve your contraption.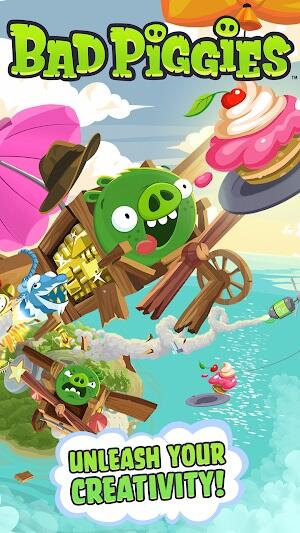 The game features more than 200 levels, and each level presents its challenges. There are also bonus levels that you can unlock by collecting all the pieces in a certain level. Download Bad Piggies APK for Android to start building crazy contraptions now.
Bad Piggies APK - Background Story
The Bad Piggies are back, and they are after the eggs again. But this time, they need your help to get them. Can you build a contraption that can take them to their destination safely?
The gameplay of Bad Piggies is similar to that of Angry Birds. However, instead of launching birds, you will construct machines to help the pigs reach their eggs.
These machines can be in any form, and you can use them to fly, roll, spin, crash, or crawl. It is up to you to be creative and come up with the most efficient way to reach the eggs.
Work with what is Available!
With this game, you will have a few options. The pigs have tried using their resources and have failed. So, it is up to you to work with what is available and develop something that can help them get the eggs.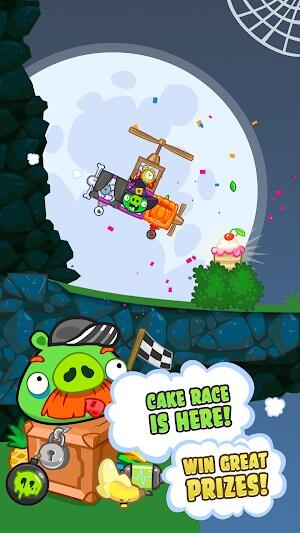 Fortunately, you will have a mechanic pig that will be there to help you with your contraptions. He will give you tips on how to use the available materials to create a working machine. However, you must give it instructions on what to do.
Once you've created your machine, you can test it in the sandbox to see if it works. Ensure you twist it, turn it, and test it out in different ways to see if it can withstand any terrain. This is the only way to earn 3 stars in each level.
Lots of Content to Explore
This game is super fun to play since it is packed with lots of content. You will have to use your brainpower to devise a working machine. This will not be easy since you will be working with meager resources.
However, the sense of satisfaction and accomplishment you will feel once you've completed a level is priceless. You will also earn stars that you can use to unlock bonus levels.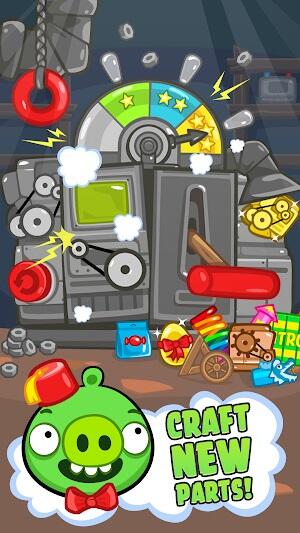 If you fail on a level, you should never shy away from trying again. This will enable you to accomplish all the objectives and earn all the stars. After all, it will be fun pig-flying, crashing, and exploding!
Unique Features of Bad Piggies APK
9+ Sandbox Levels. These are the ultimate levels that will test your creativity to the limit. They don't have any objective, so you can build anything you want. Ensure you use all the materials to see what you can come up with.
200+ Levels. These are the regular levels where you have to help the piggies get the eggs. Each level presents its challenges, and you must be creative enough to overcome them.
40+ Special Levels. Additionally, the game features unique special levels that you can unlock by collecting all the pieces in a certain level. These are usually harder than the regular levels, but they are worth it. They test your contraption-building skills to the limit.
Free Updates. This is one of the most dynamic games, and the developers are always working on new content. They release regular updates that add more levels, objects, and features to the game. This way, you will never be bored or run out of content to explore.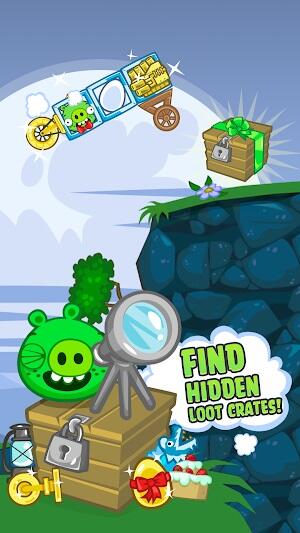 42 Objects to Use. This game is all about creativity. You will have 42 objects that you can use to build your contraptions. These include boards, wheels, fans, balloons, umbrellas, wings, motors, and bottle rockets. Use them wisely to come up with a working machine.
Lots of Levels to Unlock. This game features lots of levels, and you will have to use your brainpower to overcome the challenges. Each level is more difficult than the last, but you will enjoy playing them. They include Ultra-Difficult, Ultra-Secret, Ultra-Special, and Sandbox levels. Ensure you complete all the objectives to unlock the next level.
Super-Cool Graphics and Sound Systems
This game has a cartoony look that makes it more appealing. The colors are also bright and eye-catching. All the characters and objects are designed with a lot of detail. This way, you will have an easy time assembling your contraptions.
The sound is also well-thought-out, and they perfectly complement the game's graphics. You will hear different sound effects when you're building your machine, testing it out, and flying it. These include explosions and crashes.
Bad Piggies MOD APK Download
The Bad Piggies MOD APK 2023 is an improved version of the original game. It comes with lots of new levels, objects, and features. Here are detailed benefits: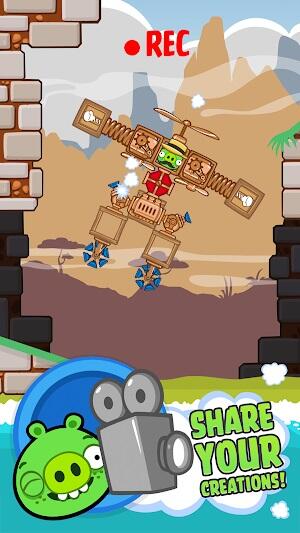 Bad Piggies MOD APK Unlimited Items. You will have unlimited access to all the game's items. This means you can use them to build the best vehicles possible.
Bad Piggies MOD APK Unlock All Skins. This game features different skins for the pigs. You can now unlock all of them and use them in your game.
Bad Piggies MOD APK Unlock All Levels. You will have access to all the game's levels. This means you can play any level you want without completing the previous ones first.
No Ads. The Bad Piggies MOD APK unlimited everything comes with no ads. This means you can play the game trouble-free.
Enhanced Graphics. The Bad Piggies MOD menu APK has significantly improved graphics. This makes the game more visually appealing and enjoyable to play.
Improved Gameplay. The gameplay has also been improved to make it more immersive and exciting. You will no longer struggle with visuals!
Conclusion - Bad Piggies MOD APK All Unlocked
If you love puzzle-themed games, then you will enjoy playing Bad Piggies. It's a unique game that tests your ability to build contraptions. The Bad Piggies MOD APK Unlock All Items version has many benefits, including unlimited items and unlocked levels.