Download Attack Hole MOD APK latest version and move a ferocious black hole in its escapade to swallow arms & weapons. You'll then unleash them against a fierce giant.
Information of Attack Hole
| | |
| --- | --- |
| Name | Attack Hole |
| Updated | |
| Compatible with | Android 5.1+ |
| Last version | 1.4.0 |
| Size | 145.61 Mb |
| Category | Arcade |
| Developer | RedLineGames |
| Price | Free |
| Google Play Link | |
| MOD | Unlimited money |
Attack Hole APK is a casual game that challenges your dexterity and reflexes as you guide a black hole to swallow arms within a stipulated timeline. Your objective should be to hoard different weapons and use them against a giant that threatens your peace.
While that sounds simple enough, it will require high concentration and immediate decisions as the clock keeps ticking. Even a split second of inattention will cost you dearly.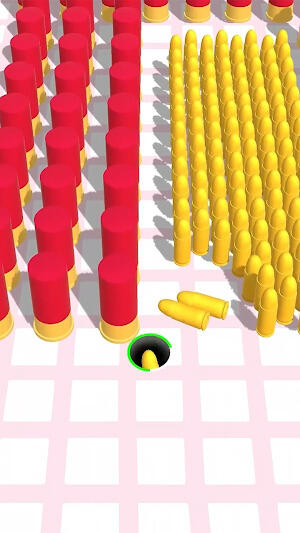 To make your mission easier, you can use special powers to accelerate the black hole or increase the time limit. This will give you the edge you need to successively collect weapons and accumulate the power necessary for exterminating your enemy.
Overall, this game will keep you on your toes as you diligently maneuver the black hole. It is designed with vibrant colors, crisp graphics, and realistic sound effects that draw you deep into the game and give you a truly life-like experience. Download Attack Hole MOD APK for Android and showcase your skills against the adversary.
Why Download Attack Hole APK?
This game is offered by Homa, the same developer behind other popular titles, including Zombie Defense War Z Survival, City Defense Crowd Control, Merge Master Dinosaur Monster, Zombie Raft, and Farm Land. It features simple game mechanics and easy-to-master controls.
Additionally, the game has an ASMR effect that makes your gameplay experience calming and peaceful. Its colorful graphics and hypnotic sound effects make it perfect for relaxation and unwinding.
Even better, the game's controls are designed for smooth and responsive gameplay. You will not require any special skills to play it. As long as you can keep your eye on the black hole and control its movements, you are good to go!
How to Play Attack Hole Game?
This game is based on a simple premise - guiding a black hole across the screen, collecting weapons and other items. While there will be enough arms, the timer keeps ticking, and you must be quick in collecting them.
Your goal should be to collect enough weapons before the time runs out. Once the time is up, the black hole will retreat with all collected items, and you can use them against your adversary.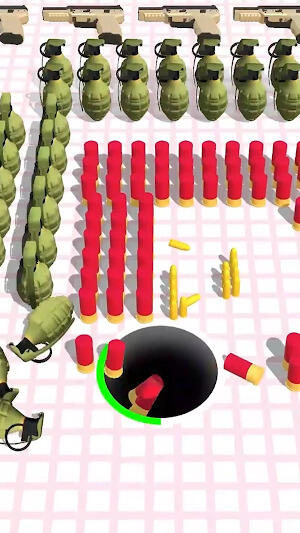 The giant is huge and powerful, and you must mercilessly unleash all your arms collection to bring it down. You'll hold the screen to release the weapons and watch the black hole devour the giant.
When you complete a level, you'll earn coins that you can use to purchase special powers. Ensure you use them wisely and strategically to increase your chances of success. For example, you can use it to increase the size of your black hole, add more time, or collect more powerful weapons.
Other Exceptional Features of Attack Hole APK
Different Types of Weapons. This game offers a rich collection of weapons to help you attack and defeat your adversaries. They include bombs, bullets, and guns. You must hoard a perfect mix of these weapons to succeed.
Highly Attractive Skins to Unlock. Playing this game will never get monotonous since you can customize the look of the black holes. You can unlock different skins to make them appear more stylish and appealing. This way, you can establish your style and have optimal fun.
Super Relaxing Experience. This game's simplicity lets you sit back and let the fingers do the walking. You'll enjoy seeing the black hole swallowing the weapons magnificently. All its elements are designed to give you a pleasant and calming experience.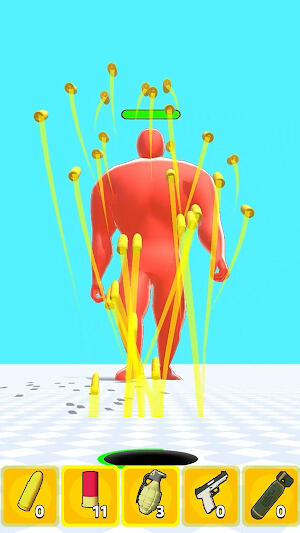 Progressive Difficulty. While you'll start with easy-to-conquer levels, you'll find the difficulty increasing as you progress in the game. Fortunately, this will not require hard thinking but rather increased speed and coordination.
Collect All the Weapons. You will be presented with a field full of weapons, and you must collect them all. Every weapon will be placed in a specific spot, and it's up to you to figure out the best way to reach each one before time runs out. If you fail, you will likely be fined.
Super Attractive Graphics. This game's visuals are crisp, clear, and vibrant, guaranteeing an immersive experience. You can spot each weapon clearly, giving you an easy time collecting them.
Simple Controls. You won't have to press too many buttons or navigate complicated menus in this game. All you need to do is touch the screen and move your fingers to control the black hole and make it gobble up weapons.
Exciting Rewards. As you advance in the game, you will be rewarded with coins that will help you purchase special power-ups. It's up to you to make wise decisions on spending these coins.
System Requirements and Additional Information
Attack Hole APK will require Android version 5.1 and up. It is lightweight (71MB) and will work optimally with any device with 2GB RAM & at least 400MB of free storage space. Even better, the game is free and offers great entertainment.
However, you can use in-app purchases when you need quick progress. These are 100% optional, and you can turn them off in the settings. This way, you can enjoy your game the best way possible without distractions.
Overall, this game is an entertaining way to pass time, hone your coordination skills, and work towards becoming the ultimate Attack Hole master. Download it today and join over 10 million players to test your strategy & win battles.
Tested and Proven Tips for Playing Attack Hole Game
Be Aggressive. The key to winning in this game is being aggressive and fast. As such, you must seize the opportunity whenever it appears and use your weapons strategically.
Plan Ahead. This game requires you to plan and think of a strategy that will enable you to finish each level quickly and efficiently. Analyze the situation and then move accordingly.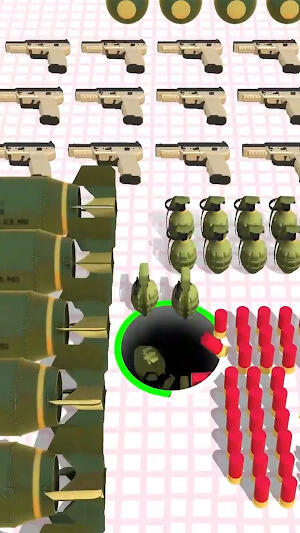 Prioritize Weapons. You need to prioritize the weapons that you'll pick up. Focus on collecting those with a higher value and ensure you don't waste time trying to get all of them.
Upgrade Your Hole. It is wise to upgrade your black hole regularly since it will swallow more weapons. Ensure you have the best upgrades for maximum success.
Time Management. Attack Hole is a time-based game, and it is critical to manage your time wisely and avoid getting caught up in trying to get too many weapons.
Conclusion
Attack Hole MOD APK download combines puzzle and strategy elements to provide an entertaining experience. You'll be required to think strategically and collect weapons of different values in the shortest time possible.
Fortunately, the game features simple controls, allowing you to concentrate on the game. Its visuals are captivating, and you'll have a great time playing it. Download it and start gathering weapons and upgrading your black hole.