Download ArgoVPN APK Mod Latest version to bypass internet censorship. You can use it to watch videos and access websites blocked in your country without security fear.
| | |
| --- | --- |
| Name | ArgoVPN |
| Updated | |
| Compatible with | Android 4.2+ |
| Last version | 2.4 |
| Size | 12.50 Mb |
| Category | Tools |
| Developer | Filtershekanha |
| Price | Free |
| Google Play Link | |
| MOD | No MOD |
ArgoVPN is a unique security tool that allows you to browse highly censored websites and watch videos blocked in your country. It is one of the best VPNs for Android that offer free and unlimited access to its servers.
ArgoVPN has strong encryption, ensuring your privacy and security while browsing the internet. Your data will not be monitored or tracked by your ISP or government.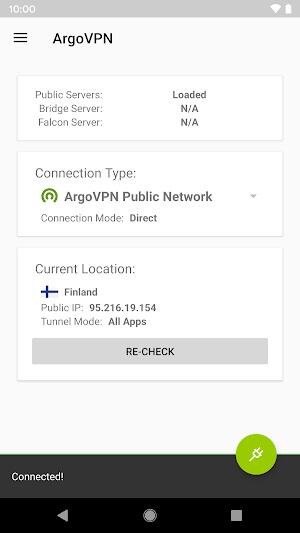 Additionally, this tool has additional features that boost its functionality, including Falcon and bridges. This way, you'll be sure of top-notch functionality and safety while using ArgoVPN.
Why Download ArgoVPN APK for Android?
Some countries, especially in Asia and the Middle East, censor internet access to prevent their citizens from accessing certain websites. This includes sites like Facebook, YouTube, and Twitter.
While censorship is meant to enhance security, it also prevents people from accessing information that could be vital to them. For example, TikTok has highly educative & informative videos that are helpful, but some countries have banned the app.
ArgoVPN APK bypasses such internet restrictions by hiding your IP address and encrypting your traffic. This way, you will access various sites from a server outside your country.
Overall, downloading this application offers numerous benefits, and you will access the internet without restrictions. This way, you will be informed, educated, and entertained without compromising your safety.
Major Features of ArgoVPN APK Download
While this app offers most of what is expected from any VPN tool, it has a few exceptional features that make it stand out. These include:
This is an in-built tool for users to register a unique domain name to be used within the app. This domain name will come in handy when navigating highly limited websites.
These are additional servers that allow you to connect to ArgoVPN servers through non-public addresses. You can use this feature when you want to access a website that is not accessible through the public internet.
DNS Leak Prevention. This ensures that your DNS requests are not exposed to your ISP or any other third-party while using ArgoVPN. This way, your identity, and location will remain private, and you will browse anonymously.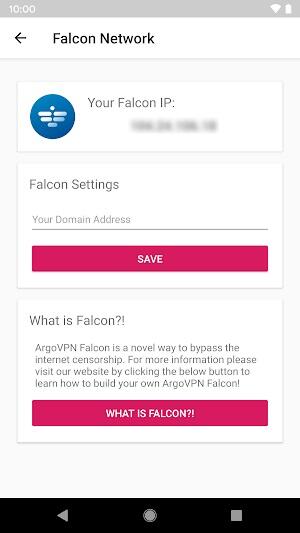 Built-In Firewall. This feature blocks unwanted internet traffic, including ads and malware. It also prevents your device from connecting to malicious websites that could harm it. This feature is largely available in commercial VPNs, but ArgoVPN APK has reproduced it for Android devices. Besides, the app allows you to use Cloudflare Family/ Malware.
Unique Public Repository. ArgoVPN APK has a public repository that helps block suspicious websites. The ArgoVPN community can submit websites to be blacklisted, and they will automatically be unavailable to other users. This way, you can be sure of safety from phishing attempts.
Exclude Specific URLs. You can use this feature to block certain websites or URLs you don't want to access. For example, you can add social media sites to the exclusion list, making them unavailable.
Kill Switch Feature. This application has a kill switch feature that ensures your device is not exposed if the VPN connection is lost. The kill switch will automatically block all internet traffic to and from your device to prevent data leaks.
High-Grade Encryption
One of the most critical features of any VPN application is encryption. This is because it is the encryption that makes VPNs effective in ensuring online privacy. If a VPN does not encrypt traffic, then it is rendered useless.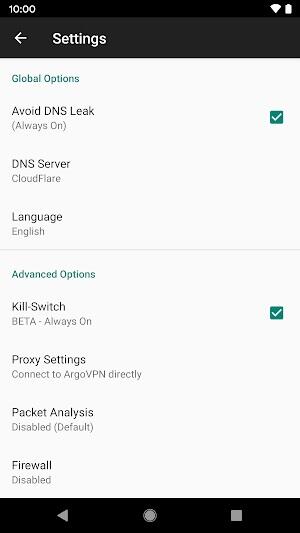 ArgoVPN uses AES-GCM-128 and ChaCha20-Poly1305 ciphers. These are among the most sophisticated and secure encryption techniques available. They guarantee the safety of your data as it moves between your device and the VPN servers.
The cipher is automatically selected based on the strength of your device. This is to optimize the internet speed, ensuring you get the best possible performance.
Additionally, the application uses a protocol known as Argo Authenticator. This is a proprietary protocol that uses the latest techniques to ensure data integrity and authentication. The protocol also comes in handy in ensuring forward secrecy.
It randomly generates an encryption key after every session to make sure that no single key can be used to decrypt all the traffic. This way, even if one session is compromised, the attacker will not use it to access your data.
Simple to Use Application
Whether you want to use bridges or falcons, this application is straightforward to use. The user interface is facile, and even first-time users will find it easy to navigate and use the app.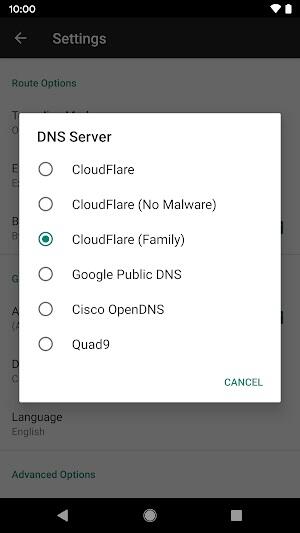 The application starts by asking you to select your preferred language. Once you've done that, you can now access the different features of the app. Ensure you also select the DNS server to use (Cloudflare Family preferred).
You will then tweak the app's settings to suit your needs. For example, you can activate the kill switch or add URLs to the exclusion list.
Once you're done, you'll activate it. This will ensure that all your traffic is tunneled through the VPN server, guaranteeing security & safety.
ArgoVPN APK MOD
The modified version of this app unlocks everything, including all the features locked in the free version. You will, therefore, have unrestricted access to use all the app's features.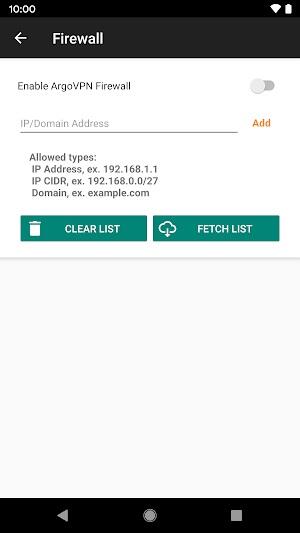 The modified app also does not contain any ads. This makes it more comfortable to use as you will not be interrupted by annoying ads.
Conclusion
ArgoVPN is one of the most secure and straightforward VPN apps you can use on your Android device. It's also effortless to use, even for first-time users. The app is completely free, and you can download it from this website.
The modified version of the app is also available, which gives you access to all pro features. The app is also ad-free, making it more comfortable to use.