With the Android 12 Widgets KWGT APK for Android, users can now enjoy lots of customization with android 12 widgets. Use some cool widgets today!  
Information of Android 12 Widget Pack
| | |
| --- | --- |
| Name | Android 12 Widget Pack |
| Updated | |
| Compatible with | Android 5.0+ |
| Last version | 16 |
| Size | 87M |
| Category | Personalization |
| Developer | Raj Arya Designs |
| Price | $1.49 |
| Google Play Link | |
| MOD | No MOD |
About Android 12 Widget Pack
There are lots of applications on the Google Play Store that you can use to customize your android device. Some of them are premium apps that you are required to pay for while others are free. One of the leading free apps in the Personalization category is the Android 12 Widgets KWGT APK by Raj Arya Designs.
This app offers users unlimited choices of widgets to use on their devices. As we know, widget usage becomes innovative and more optimized. It is even more fun for those with the Android 12 Widget Pack for KWGT.
With this application, they can access a huge number of widgets that can change the look and feel of a smartphone device. In addition, this awesome app meets the innovative needs of users. Interestingly, the appearance of the home screen of your mobile device will become exceptional and attractive!
Unlimited Widgets for Android 12
The latest Android operating system to be released is the Android 12. It comes with enhanced functions that ensure a better user experience. That said, there is an undying need by users with the newest android OS on their devices to have exciting widgets.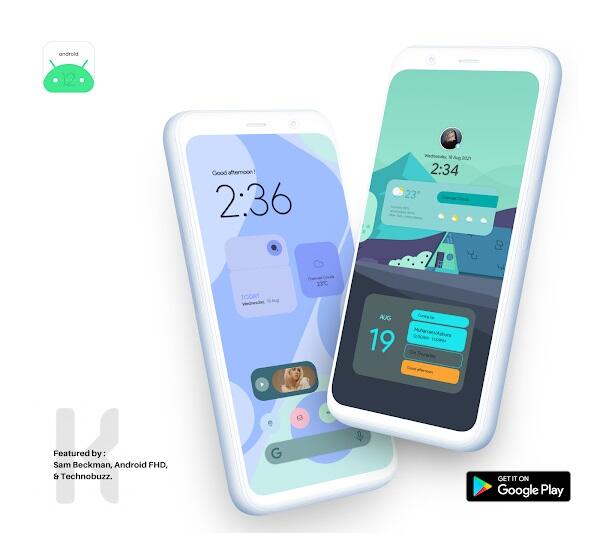 With the Android 12 Widgets KWGT APK, users will enjoy lots of free widgets on their smartphones. Those using KWGT widgets should not ignore the Android 12 Widget Pack for KWGT because it helps you adjust widgets on the latest operating system. However, you should note that it is necessary to install KWGT PRO prior to using the Android 12 Widget Pack
Get as many widgets as you can, including search, date, or time widgets to operate your mobile device quickly. Users can take advantage of the widget feature to include many other applications on the home screen easily. Download the Android 12 Widgets KWGT APK and change the look of your smartphone by yourself courtesy of the widgets you like.
Android 12 Widgets KWGT APK Highlights
This application is incredible and comes with lots of appealing widgets. Here are the features that make this the ultimate android device customization.
Full Home Screen Customization – with this application, you can fully customize and arrange widgets on the home screen of your device to optimize your viewing. Undoubtedly, you will find exciting skins for several functions by yourself.
Nothing is better than when you open a store of skins from the Android 12 Widgets KWGT APK. You can find unlimited compatible widgets but you will take some time to completely optimize these elements as your wish. With the huge range of widgets to choose from, you will certainly not be bored with the customization process.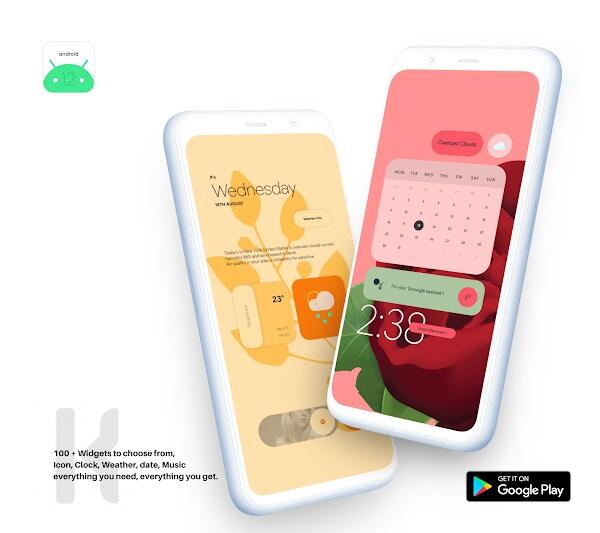 Change the look of your widgets when they get boring. You will enjoy an entirely new experience on your device. Take advantage of the many widgets to present here and give your device a new look.
Many Widgets – Android 12 Widgets are in plenty in this remarkable app. There are so many widgets that will blow your mind! They are meant to boost productivity and make your mobile device stunning without having to purchase the latest phone!
Android 12 Widgets KWGT APK has over 60 premium and gorgeously crafted widgets. The developer just confirmed that more will be added very frequently. Lots of stunning creations have been put into these widgets from background color, font style, and even the shape of the widget itself.
Download this app today and use all the personalized widgets with amazing designs and functionality. The app has no ads and gets updated frequently!
Customizable Home Screen Looks – with this app, you have the chance to change the elements that you feel need to have a customized look. Besides, there are ample basic widget interfaces that you can discover for your devices.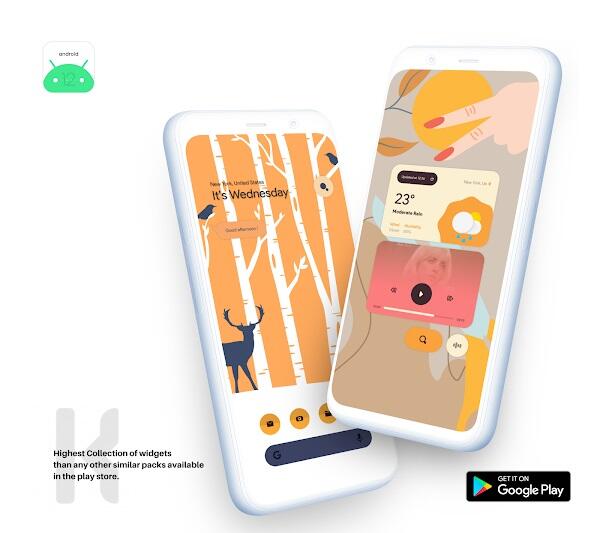 The experience changes after renewing the widgets that are used often. Using the Android 12 Widget Pack for the KWGT application is straightforward and brings an exciting experience altogether. Specifically, you will be able to customize your home screen looks with some basic features that have new layers and other attractive elements such as text and shapes.
Change The Appearance of the Widgets – without a doubt, users can expressly use the widgets available. Even so, you should not ignore the benefit of having KWGT Kustom Widget Maker and the KWGT Kustom Widget Pro Key. These applications are very useful in ensuring full customization of the widgets.
The KWGT Kustom Widget Pro Key application help users create an extraordinary lock screen with functions intended to express their creativity. With the KWGT Kustom Widget Maker application, users can create different widgets for the many functions in their mobile device by themselves.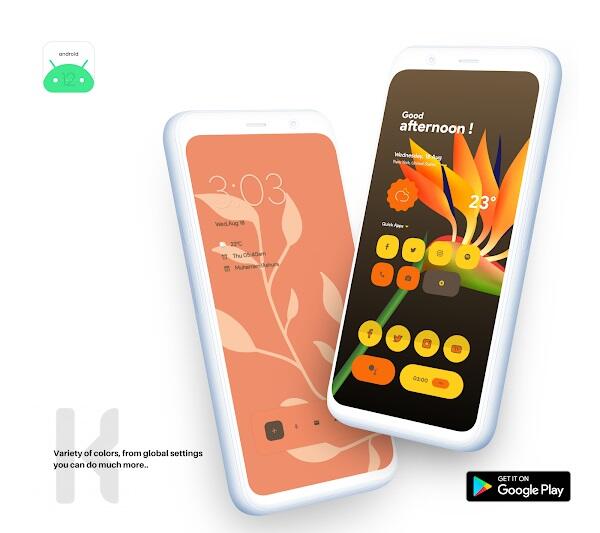 Easy to Use – using Android 12 widgets for KWGT is a walk in the park. You just need to download this app, along with KWGT Pro MOD APK. Then, long tap on your home screen and select the widgets of choice. Select a KWGT widget according to your preferred size and take it to your home screen.
Then, tap on the widget and select to the Installed tab. Choose the widget you want. If the widget is not to your desired size, then go to the Layer tab and adjust the scale as required. In case the widgets are not working correctly, long-press the KWGT icon, open App Info and select Clear Cache or Force Stop.
Premium Unlocked – Android 12 users now have a perfect way to customize and install a new beautiful widgets pack for a beautiful home screen. The Android 12 Widget Pack for KWGT Mod APK comes with lots of free premium widgets. You can now select unique colors for every widget, and perform fully customizable widgets through a global setting.
Download Android 12 Widget Pack for KWGT – Premium Unlocked
If you want to use some cool widgets on your Android 12 device, you should not hesitate to download the Android 12 Widget Pack Mod APK for free.