Download Airport Billionaire Mod APK Unlimited money Latest version and upgrade a dilapidated airport into a thriving aviation hub. Keep an eye on the market to make savvy decisions.
Information of Airport Billionaire
| | |
| --- | --- |
| Name | Airport Billionaire |
| Updated | |
| Compatible with | Android 7.0+ |
| Last version | 1.14.5 |
| Size | 177.56 Mb |
| Category | Simulation |
| Developer | Lion Studios Plus |
| Price | Free |
| Google Play Link | |
| MOD | Unlimited money |
Unlimited money(spending even though it's not enough)
No ads
About Airport Billionaire
Airport Billionaire APK is a simulation game offered by Lion Studios Plus. You will be the owner and operator of a bustling airport. Manage everything from airplane takeoffs and landings to constructing new buildings and managing your employees.
However, expanding and managing your airport doesn't come without challenges. You must compete with other airports and manage tricky situations such as weather delays and VIP passengers.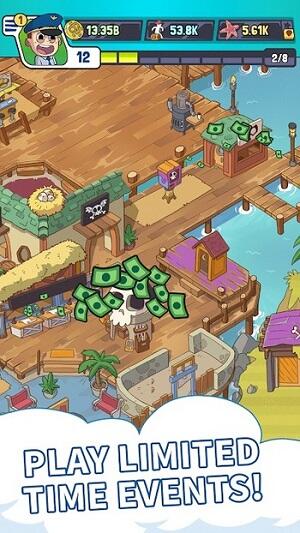 Additionally, you must ensure your passengers are satisfied & happy with their airport experience by providing them with amenities such as restaurants and shops. This way, you can earn higher revenues and become a successful airport billionaire.
Airport Billionaire APK - Background Story
Immediately after graduating from college, you are assigned the task of managing a small airport with only a few planes and limited resources. However, you quickly realize that the airport is neglected and run down.
Everything is dysfunctional, from the outdated airport buildings to the unorganized staff. It's up to you to restore this once-thriving airport and turn it into a profitable business.
However, this will not be easy since you'll require enormous funds and resources to upgrade buildings, attract passengers, and compete with other airports. Can you turn this airport into a successful business and become the ultimate airport billionaire? Download Airport Billionaire APK to find out.
Make Smart Decisions
Your success in this game boils down to your ability to make smart business decisions. Stay updated on market trends and monitor your competitors to stay ahead of the game.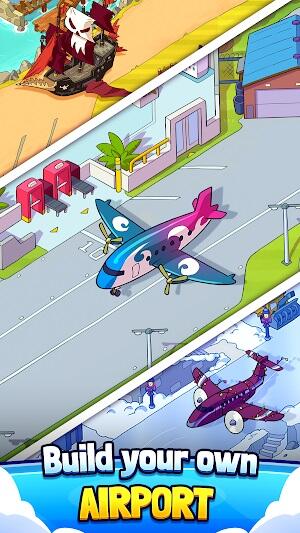 Invest in airport expansions, upgrade buildings, and attract new airlines to increase revenue and improve customer satisfaction. But be careful - don't overextend or spend too much money as it could lead to bankruptcy.
Besides, you'll be faced with challenging situations that require radical solutions. It's up to you to make the tough calls and ensure your airport's success. For example, bad ratings from customers can result in losing airline partnerships or losing potential investors. As such, you should be ruthless in dealing with these problems and come up with quick solutions to improve customer satisfaction.
Build World-Class Infrastructure
As earlier indicated, you take over a run-down and neglected airport. Thus, one of your main tasks is to upgrade and expand your airport's infrastructure.
Construct new buildings such as control towers, hangars, and terminals. Attract top-notch airlines to increase revenues and improve customer satisfaction. Upgrade your runway to accommodate larger and faster airplanes to attract more passengers.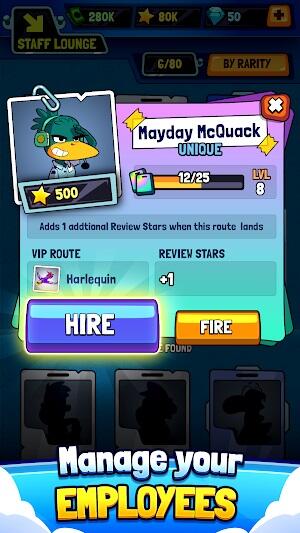 Additionally, you must include all supporting services for your passengers. This includes restaurants, shops, and lounges for a comfortable airport experience. Comfort, efficiency, and organization are key elements in building a world-class airport infrastructure.
Assemble Your Aircraft
Once you have functional buildings and services, it's time to assemble your aircraft fleet. Choose from different airplanes, including commercial jets, private planes, helicopters, and more.
Manage everything from flight schedules and maintenance to refueling and crew assignments. Monitor airplane conditions to ensure maximum efficiency and safety for your passengers. Upgrade your aircraft fleet as you earn more profits to attract a larger customer base.
Manage Your Employees
As your airport grows, so will the number of employees under your supervision. Hire and manage staff such as flight attendants, ground crew, maintenance technicians, and security personnel. Train them to improve their skills and enhance their productivity.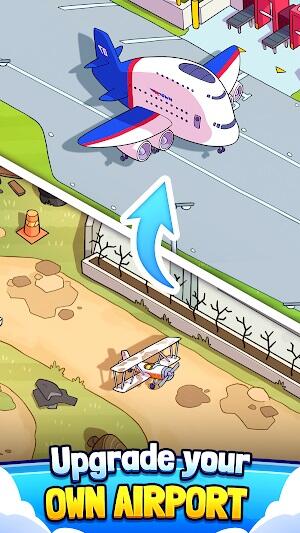 Keep an eye out for potential problems between your employees and address them promptly. Happy and efficient staff will result in smoother airport operations and better customer satisfaction.
Compete With Other Airports
The airport industry is competitive, so you'll need to constantly stay ahead of the game to succeed. Monitor your competitors and develop strategies to attract more passengers and airlines to your airport.
Participate in events and challenges to gain fame and increase revenue. Collaborate with other players in the game to take on bigger projects and expand your airport empire.
Other Unique Features of Airport Billionaire APK
High-Strategy Gameplay. This game is not just about tapping and clicking. It requires strategic thinking and decision-making to succeed as an airport tycoon. Ensure your airport's success by constantly monitoring market trends and making timely decisions.
Automate the Airport. This game allows you to automate various tasks, including flight schedules & refueling to save time and improve efficiency. This will boost your profitability as you can focus on more critical tasks.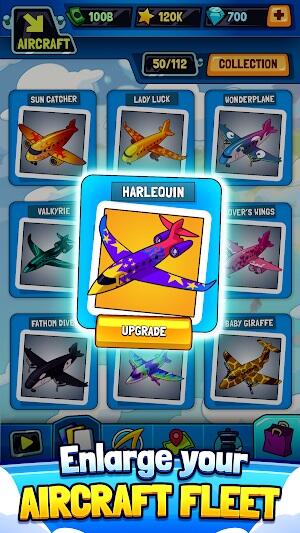 Realistic 3D Graphics and Immersive Gameplay. The graphics in this game are stunning and truly bring the airport experience to life. Get lost in the busy airport as you manage every aspect of its operations.
Day/Night Travel. The time affects the operational dynamics of your airport, adding another layer of realism to the gameplay. For example, night-time may see a decrease in travelers and airport activity.
Limited Time Events. Keep the game exciting by participating in limited-time events with unique challenges and rewards. Collaborate with other players to achieve these goals and earn exclusive prizes.
Become a Tycoon. Your ultimate goal in this game is to expand your airport empire and become a successful tycoon. Earn profits, attract famous airlines, and build a world-class airport infrastructure to rise to the top.
Simple Controls/Autopilot Mode. The game has easy-to-use controls, allowing players of all ages and experience levels to play. You can even use autopilot operation modes where your employees take care of designated tasks as you collect the profits.
Airport Billionaire MOD APK Download
The MOD APK version offers exceptional features to enhance your airport management experience. These features include: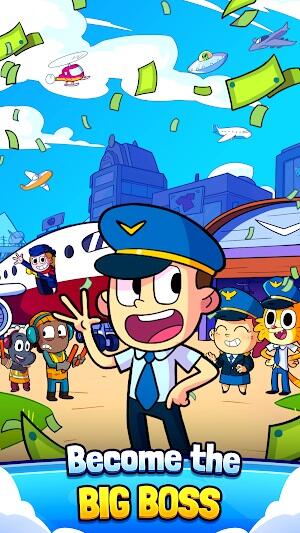 Airport Billionaire MOD APK Unlimited Money. This game offers the opportunity to earn money by managing your airport efficiently. The MOD APK version allows you to have unlimited funds, giving you the means to rapidly expand and upgrade your airport without financial constraints.
Unlocked Aircraft and Upgrades. The MOD APK version also gives you access to all aircraft and upgrades, allowing for a more diverse gameplay experience.
No Ads. Enjoy a seamless gameplay experience with the Airport Billionaire MOD APK for Android version's ad-free feature. This way, you can focus on becoming a successful airport tycoon without distractions.
Conclusion
Manage your way to the top of the airport industry in Airport Billionaire APK for Android. Use strategic thinking and decision-making to attract passengers, airlines, and fame to your airport.
Automate tasks and earn unlimited funds with the MOD APK version's exceptional features. This version also gives you access to all aircraft and upgrades, as well as an ad-free gameplay experience.