If you've ever been to an airplane before, you know how it is to eat there. In Airplane Chefs Mod APK - Unlimited money, your job is to serve different food to customers in the plane!
Information of Airplane Chefs
| | |
| --- | --- |
| Name | Airplane Chefs |
| Updated | |
| Compatible with | Android 6.0+ |
| Last version | 7.0.4 |
| Size | 176.17 Mb |
| Category | Arcade |
| Developer | Nordcurrent |
| Price | Free |
| Google Play Link | |
| MOD | Unlimited money |
If you've ever been on a plane before, chances are you've had a very good eating experience or not. There's no middle ground in these types of situations. But in Airplane Chefs, your job is to serve food to different customers in the plane! There are different orders for each customer and it's your job to serve them without having them wait too much.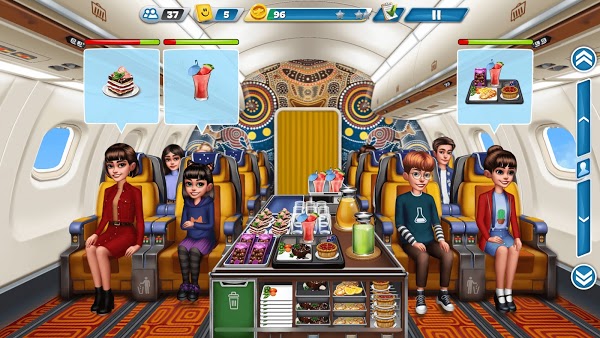 This game has been downloaded 100 thousand times in Google Play Store. In this one, your job is to be a flight attendant that will be responsible with food. You will cook, bake and serve food to customers in the airplane! There will be a lot of challenging levels to complete and a variety of upgrades and decorations you can do.
Eat at the Plane
Airplanes are one of the primary modes of transport of a lot of people. For frequent travelers, the need for a good and quick food is a necessity. This is why the job of flight crew members is to provide the best eating service ever. In Airplane Chefs, you will experience what its like to serve customers in the air!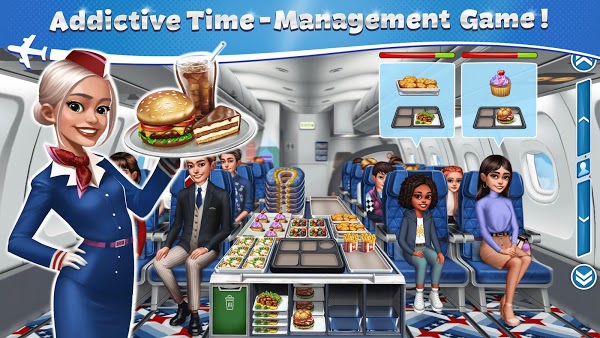 In this time-management game, you need to primarily take into account the time it takes to serve customers. Each one has different orders such as burgers, salads, sandwiches, steaks and more. It's then up to you to serve them while cooking the food. You'll also need to take out their trash every so often. So, can you multitask and serve food in this challenging game? Don't take this game lightly as there are hundreds of levels that you can play. You can also do a ton of upgrades and decorations to make the plane even more accommodating. Can you take up the challenge of becoming the ultimate airplane chef?
Airplane Chefs Features
Being a chef in the plane is no easy feat! You must take into account the serving time among many things in order to accumulate a lot of smiles. Here are what makes Airplane Chefs an enjoyable game.
A different service experience – When we think of eating, we usually associate it with places such as like the restaurant or our house. But even when we're flying at 35,000 miles per hour, we would still need to eat. This is especially true when you're aboard a plane which will be flying for numerous hours. So, if you've ever wanted to experience what it's like to be a flight attendant that's in charge of food, then it's your time to shine in Airplane Chefs! Indulge in a rewarding experience filled with challenges and food.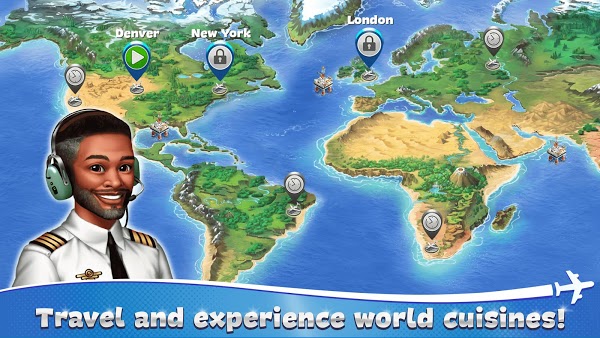 Prepare different types of food – In this game, there are a lot of customers who are hungry. You will then need to prepare different types of food according to their requests. These includes burgers, salads, steaks, sandwiches, and other tasty meals! At the start, you'll only be allowed to serve one or two types of food. But as you complete the challenges, you can serve more food! There are a lot of food to unlock and it's fun trying to serve them all!
Hundreds of challenging levels – In Airplane Chefs, one level constitutes to a whole flight. That's why there are different customers and requests for every level. They increase in difficulty as time passes by. You must cater to them as fast as you can in this game. This is why there are a ton of things to complete and certain challenges you must meet.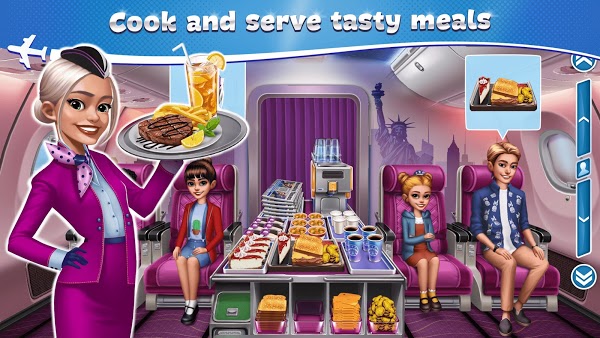 Upgrade and decorations – There are also different upgrades you can do as you complete the levels. These upgrades pertain to your cart storage space, your trash can, different food, more utensils and more. Plus, you can decorate the airplane more and attract more customers.
Fun graphics and controls – The graphics in Airplane Chefs are as fun as it could be. The graphics are in 3D and the movements are smooth. You can appreciate the controls in this game as you can easily navigate through the isle of passengers.
Download Airplane Chefs Mod APK – Unlimited money
Airplane Chefs is a great game that allows you to easily create food to serve the passengers. Download the latest version and enjoy.