Download Agar.io APK and participate in dynamic gameplay. You'll be required to control multiple cells, ensure their growth, and multiply them to achieve a mass of cells!
| | |
| --- | --- |
| Name | Agar.io |
| Updated | |
| Compatible with | Android 4.4+ |
| Last version | 2.26.2 |
| Size | 56.26 Mb |
| Category | Action |
| Developer | Miniclip.com |
| Price | Free |
| Google Play Link | |
| MOD | Mod menu |
This is an online action game developed by Matheus Valadares. It has highly dynamic gameplay where each player is required to control one or more cells in a given map akin to a petri dish.
When you join the game, you'll only have one goal—to eat as much Agar as possible! The more Agar you consume, the more mass you gain, and the higher the chances of winning the game.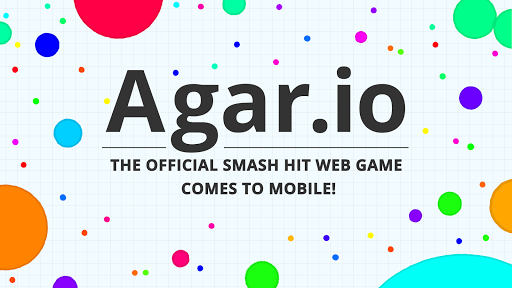 Every player begins the game with only one cell. However, they'll be at liberty to split the cell into two after it has gained sufficient mass.
As such, the faster your cells gain mass, the faster you'll get the privilege of controlling a multiple cell thus making the game more interesting.
Since its release, Agar.io has continuously received positive reception from gaming enthusiasts. It became the most popular mobile game in its first year of release! Its success can be attributed to its simplicity, competitive nature, and realistic mechanics.
A Riveting Gameplay
The name of this game is derived from Agar—microbiological substances used in culturing of cells. It contains all the nutrients required for the growth and multiplication of the cells.
Similar concept is applied in the gameplay! You'll be required to provide sufficient Agar for your cells to increase their mass. Once they have grown big enough, you'll have the liberty to divide them into two and gain more cells. The process continues until you gain lots of cells under your control.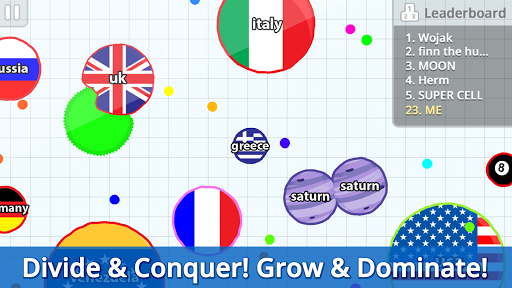 The game has fantastic gaming environment. Initially, you'll have a map (similar to a petri dish), Agar, and a single cell. While that may appear simple, you must be keen to devour the Agar before your competitors.
The Agar will be randomly generated in the form of pellets. As such, you must strive to eat them as soon as they are released lest you miss the opportunity to grow.
However, you must realize that an extremely big cell will be slower than smaller cells. As such, you'll be required to be cautious not to meet with viruses or other rivals which will destroy you! Alternatively, you can divide the cells when they grow large to maintain your agility and increase your chances of colonizing the gameplay.
The game currently has two versions:
Browser Version
Mobile Version
The browser version has five game modes including:
Free-For-All (FFA). This gameplay is open to all players—you can join and compete with your rivals. Ensure that you swallow as much agar pellets as possible to increase your size as well as population. The players that outperform their competitors get more points and treasures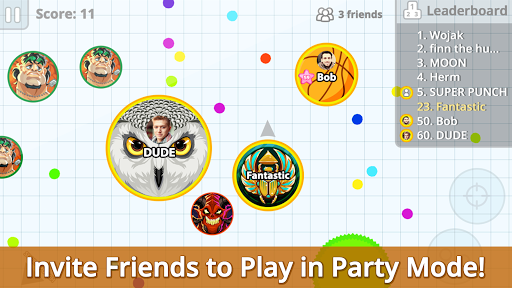 Battle Royale. This is the game where the last cell standing is declared the winner. You'll be required to deny your competitors a chance to eat Agar and destroy them completely
Teams. The gameplay allows you to team up with your friends with common objectives. Your primary goal will be to outsmart your rivals, multiply fast, and colonize the game area. When this happens, you'll push out the cells of your competitors which will lead to victory
Experimental. This is particularly ideal for beginners. You'll have the chance to learn the game's basics and understand what is required to emerge the victor
Party Mode. This allows you to interact with other cells, engage in tournaments, and fight for a chance to appear on the leaderboard
On the contrary, the mobile version has only the Battle Royale, FFA, and an additional Rush Mode. In the Rush Mode, you must be agile enough to maneuver the pretty fast gameplay. The quicker you are, the higher the chances of your cells growing large and multiplying rapidly.
While you will intend to grow your cell big, you must prevent your rivals from eating it! If your cell is eaten, you'll be forced to restart the game.
Unique Features of Agar.io
Dynamic Customization Features. You'll have the liberty to design the appearance of your cell. You can use predefined words, symbols, skins, or phrases to ensure that you achieve a unique identity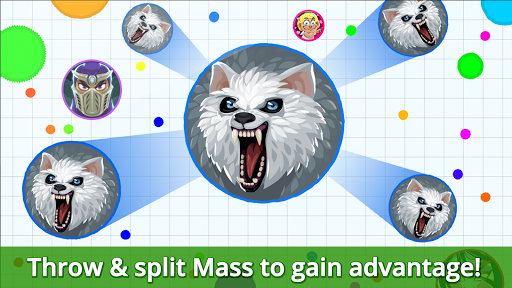 Ability to Eject Mass. This is a unique tool that you should apply to increase your dominance. Every ejection will be accompanied by a release of food and viruses which you can use to attack your rivals
Unique Chance to Form Alliances with Friends. You'll have a chance to form a team with like-minded friends which will increase your chances of winning the game
Invisible Walls. The game has walls that you cannot see! This makes it tricky since small cells can easily be cornered by bigger cells and eaten due to lack of an escape plan
Multiple Skins Available. You'll have the chance to customize your skins to achieve your desired look. This allows personalization which further enhances the gameplay making it fun
Online Multiplayer Feature. You can play online with players from all over the world. Your goal will be to become the biggest cell of them all and appear on the leaderboard.
While the gameplay may appear easy, achieving a large cell is regularly interrupted by the notorious viruses.
The viruses will split bigger cells into two without your consent. Consequently, you must be careful to avoid the viruses (green spiky objects) as much as you can.
Download Game Agar.io APK New Version
Agar.io is a great addition to your games collection. It has calm and relaxed gameplay that'll easily addict you.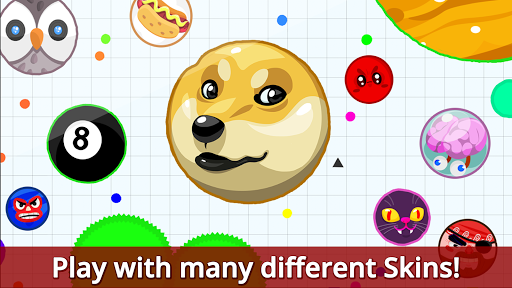 Even better, you can download Agar.io android or Agar.io IOS and enjoy the gameplay at the comfort of your couch. It has incredibly easy controls that make it ideal for both beginners and experienced players.
Price: Weekly subscription of $7.99. However, the price may vary depending on factors such as taxation in different countries.
Conclusion
Agar.io has unique graphics and interesting sound systems. It allows you to control cells and ensure that they grow bigger and bigger without being busted by roaming viruses and other rivals.
Download its latest version today and enjoy calm gameplay that'll leave your wonderstruck!